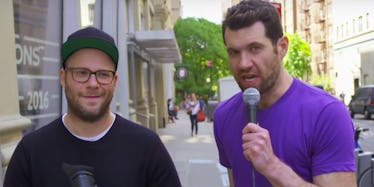 Seth Rogen And Billy Eichner To Voice Everyone's Favorite Duo In New 'Lion King'
TruTV
Somebody give whoever is casting the upcoming, live-action "Lion King" remake every award possible because they are KILLING IT!
First, we got Donald Glover as Simba (perfect), then James Earl Jones as Mufasa (because duh) and there are even rumors Beyoncé is in talks to voice Nala (OMG!).
But the most perfect casting of all might just be who the film has in mind to play Timon and Pumbaa: Billy Eichner and Seth Rogen, respectively.
TheWrap reported the two comedians are currently in final negotiations to play the beloved Disney duo, and now I can't imagine anybody else playing the parts!
Seriously, it feels like Billy and Seth have been destined to play Timon and Pumbaa forever.
Who better to play the fast-talking, wise-cracking, joke machine meerkat Timon than Billy Eichner? After all, Billy's more than proven his ability to scream jokes at a machine gun rate on his series "Billy on the Street."
And as for the deep-voiced, comic relief warthog Pumbaa, Seth Rogen's delivery seems like the perfect choice. Rogen's already proven his voice-acting chops time and again in films like the "Kung Fu Panda" trilogy and his recent adult cartoon "Sausage Party."
Need more proof Billy and Seth are going to provide the perfect chemistry for Timon and Pumbaa? Check out the "Billy on the Street" segment from last year co-starring Seth, in which Billy tricks people into thinking Seth has died only to reveal him laughing behind the camera.
It's definitely what Timon and Pumbaa would be doing if they moved to New York and got a TV show.
Unfortunately, we're going to have to wait a while before we actually see Billy and Seth belting out "Hakuna Matata" -- two years, to be exact.
The "Lion King" remake's director, Jon Favreau, just revealed the movie is coming out on July 19, 2019.
Citations: Seth Rogen and Billy Eichner to Play Pumbaa and Timon in 'Lion King' (Exclusive) (TheWrap)