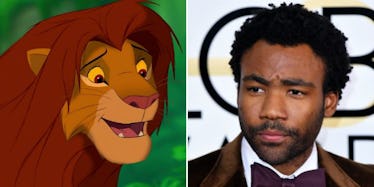 'Lion King' Remake Casts Its Simba, Donald Glover Can't Wait To Be King
Disney/REX/Shutterstock
I can see what's happening, and they don't have a clue. Donald Glover's been cast as Simba, in "Lion King" by Jon Favreau...
If you've been checking out Favreau's Twitter feed lately, then you've probably spotted that Simba in the live-action remake of "The Lion King" will be voiced by none other than Donald Glover.
But fear not, Disney purists. Mufasa is, and shall always be, played by James Earl Jones.
While Disney and director Favreau are keeping mum about details, we can probably expect the movie to come out around 2020, and it will probably look a lot like last year's "Jungle Book," which Favreau also directed.
Plus, casting Glover and James Earl Jones as the voices of the father and son is way easier than teaching some lions how to sing -- trust me. I have tried.
Jeff Nathanson ("Catch Me If You Can," "The Terminal") is set to write the script of the 1994 classic's remake.
The original "The Lion King" starred Matthew Broderick as adult Simba and Jonathon Taylor Thomas as the younger version of the King of Pride Rock.
Honestly, Disney is straight up slaying the nostalgia game.
We're all eagerly awaiting watching Emma Watson tame a really hairy dude this year for "Beauty and the Beast," and "Mulan" is also set to get a remake, which is set to film in China.
But can we just take a moment to appreciate how much work the talented Donald Glover is getting?
He created, stars and co-writes his Golden Globe-winning FX series, "Atlanta," which is brilliant, he'll appear in "Spider-Man: Homecoming" and he's set to play young Lando Calrissian in the upcoming Han Solo movie.
On top of that, he released a new album as Childish Gambino called "Awaken, My Love" last year. It also makes me cry, so there's that.
CAN YOU FEEL THE LOVE TONIGHT?!
Citations: Donald Glover will be the new Simba, but Mufasa will be a familiar face (Mashable)