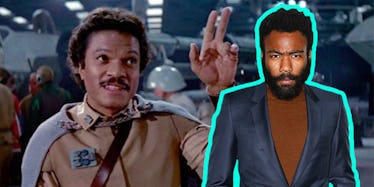 Donald Glover Top Pick For Young Lando In Han Solo Spinoff
REX/Shutterstock/20th Century Fox
Hello, what have we here?
If you weren't already over the forest moon of Endor about the upcoming Han Solo prequel, then get ready to be as happy as a helmet-banging Ewok after the destruction of the Second Death Star.
According to The Wrap, Lucasfilm is looking to cast a young Lando Calrissian, the character whose cape game was so strong.
I mean, this totally makes sense. Any true "Star Wars" fan wants to know why Lando tells Han that he had "a lot of guts coming here, after what you pulled" in Bespin's Cloud City.
What, Lando? WHAT DID HE PULL? Whisper it into my ear. I won't tell anyone.
Not only that, but according to Birth.Movies.Death., Donald Glover is allegedly the first choice to play the gambler with that classic winning smile, although apparently no official offer has been sent.
Maybe part of getting the role involves Donald screaming "that was never a condition of our agreement" every time he's getting close to being offered a contract.
This news comes from Devin Faraci, who mentions that he's unsure if Donald would accept the role, but come on, Donald, it's Lando.
You don't say no to Lando. Plus, Donald has the right amount of charisma and charm to really nail the performance of this iconic smuggler.
Overall, there are so many questions Lucasfilm could answer about Han and Lando's past.
How did Han win the Millennium Falcon from Lando? Did Han get his vest outfit from Lando, you know, since they both wear it in "The Empire Strikes Back?"
We'll have to wait and see.
Speaking of waiting, what I wouldn't give to be put into carbonite freezing just so I could just sleep until the day this movie comes out.
OK, maybe a few days before, because I'd have to reclaim my eyesight.
Citations: STAR WARS HAN SOLO PREQUEL IS CASTING A YOUNG LANDO CALRISSIAN (Nerdist)