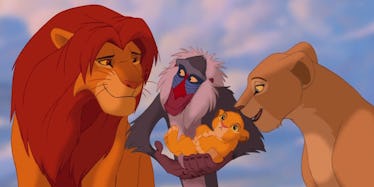 'The Lion King' Is Getting A Live-Action Movie And We're Freaking Out
Disney
CANNNN YOU FEEL THE LOVE TONIGHT?
Oh baby, I sure can.
Walt Disney Studios confirmed  "The Lion King" will be getting a live-action movie and I'm totally freaking out.
No release date has been set, but we do know the retelling of the story will feature songs from the original animated movie. THAT'S RIGHT.
We'll get to watch Simba, Nala, Timon and Pumbaa's epic adventures on the big screen. Hakuna Matata, everyone.
IT MEANS NO WORRIESSSSSSS FOR THE REST OF YOUR DAYS... IT'S OUR PROBLEM-FREE PHILOSOPHY...
Sorry, sorry. I'm getting carried away.
The mastermind behind the project, Jon Favreau, broke the news this morning. Earlier this year, the filmmaker brought "The Jungle Book" to life, so now he's ready to bless the world with another beautiful film.
Early Wednesday morning, Favreau teased fans on Twitter with a quick message and some lion emojis.
Fans immediately put two and two together.
IT'S REALLY HAPPENING, YOU GUYS!!!
We recently learned "Beauty and the Beast" will also become a live-action movie, starring Emma Watson and Dan Stevens.
In addition to that, there are plans to turn "Mulan" into a live-action film as well. I CAN'T MAKE THIS STUFF UP.
Sony Pictures will be working on the project and and it will be filmed in China, which is dope.
Man, there are some big things happening with Disney in the next couple of years.
If you're just as excited as I am, here are some songs from "The Lion King" to get you extra pumped.
Pumbaa is my spirit animal, especially when he was a young warthog.
Um and here's "Circle Of Life" performed by the Disney Channel Stars. SHUT UP, YOU LOVE IT.
Jon Favreau, marry me, please.
Citations: Live-Action "The Lion King" (CinemaBlend)