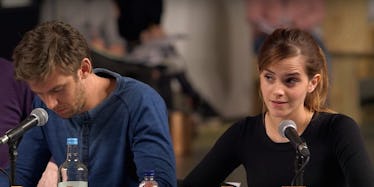 Emma Watson Transforms Into Belle In New 'Beauty And The Beast' Sneak Peek
Disney
Hey Disney fans, listen up.
If you're as excited as I am to see the live-action "Beauty and the Beast" movie, then there's something you need to see.
For those who are a little behind, Emma Watson will star in the upcoming film as Belle alongside Dan Stevens as the Beast.
We've already seen the first trailer drop, but it didn't give much away about Emma's big role. COME ON DISNEY, GIVE US MORE THAN THAT.
All we know so far is there's a stacked cast, awesome art and incredible animations. It'll definitely make all your childhood dreams come true.
If you can't wait for the full movie to come out, then we have some behind-the-scenes footage to hold you over.
YUP, in the video above, you can listen to Emma Watson for the first time reading lines as Belle. ALL RIGHT, ALL RIGHT. She did say "hello" in the first trailer, but that was nothing.
Now we can listen to her exchange lines with the Beast at a table read. Just look at the expressions she makes while rehearsing. She's so into the part, I'm obsessed.
The full movie won't come out until March 2017, but fans will get an exclusive look at the new movie on September 6.
THAT'S SO SOON, YOU GUYS. Disney, you're killing me.
If you haven't seen the first full trailer for "Beauty and the Beast," be our guest and check it out. Haha, see what I did there? STFU.
Citations: "Beauty And The Beast" Behind The Scenes (Mashable)