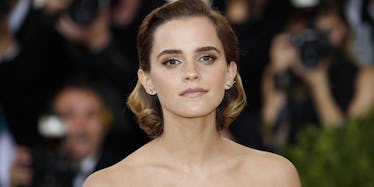 The First Photos For Emma Watson's 'Beauty And The Beast' Are Here
REUTERS
Everyone freaked the heck out when the trailer for Emma Watson's live-action "Beauty and the Beast" movie dropped.
Major feels were going through all of us as we intently watched the beauty unfold on our computer screens.
"Beauty and the Beast" is one of my all-time favorite Disney Princess movies. So, naturally, I'm not exaggerating when I say I got MAJOR chills and started tearing up as the music began to play.
Could anything get more breathtaking than this?! TBH, I really don't think so.
The trailer felt like I was re-living my childhood.
Even though we all have to wait until March 17, 2017 for the movie to come out (FEELS LIKE AN ACTUAL LIFETIME AWAY), hopefully this first look into the live-action film will hype all of us up in the meantime.
Co-producer Jack Morrissey posted this concept art of Cogsworth and Lumière.
UM, badass much?! This concept art is actually sick.
In his Instagram post, Morrissey says,
These designs are close but may not be final.
And here's a B-roll footage shot from the movie's "Gaston" song.
Last but most certainly not least, we have our hunky prince, AKA The Beast, looking super fine.
Hot DAMN.
Where's our main girl Emma Watson -- aka Belle -- at though?! WE NEED MORE PHOTOS.
OK seriously though, can we just fast-forward to March already?!
Citations: The First Glimpses of Disney's Live-Action Beauty and the Beast Are Here—and They Look Incredible (Glamour)