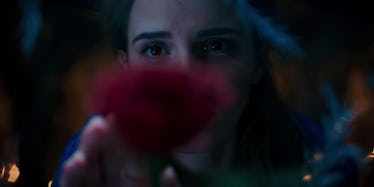 The First Trailer For Emma Watson's 'Beauty And The Beast' Is Finally Here
Youtube
OMG, OMG, OMG, OMG, OMG, OMG, AHHHHHHHHH! THE FIRST TRAILER FOR THE LIVE-ACTION "BEAUTY AND THE BEAST" TRAILER JUST DROPPED, AND WE'RE ALL GOING TO BE CRYING AT OUR WORK DESKS.
OK, OK, OK, feel free to "be my guest" as I walk you through a few quick reactions to the trailer:
1) Eff, that castle is just one big nostalgia factory, producing straight-up tears and memories. 2) Eff, the CGI behind all the castle creatures is going to be insane. 3) Eff, LUMIÈRE'S VOICE!!!!!!!! 4) Eff, Emma Watson is perfectly cast in this, alongside Ewan McGregor, Luke Evans, Ian McKellen, Emma Thompson, Josh Gad, Kevin Kline and Stanley Tucci. 5) Eff, you KNOW?
Wait. March 17, 2017? Why the crap are people toying with my emotions a full effing 10 months before this movie gets released?!?! That's cruel and unusual punishment -- kind of like transforming a prince into a monster and his waitstaff into talking appliances all because that prince had an attitude problem.
Dick move, Disney. Dick move. Awwww, who are we kidding? We can't stay mad at you! We're too busy watching this "Beauty and the Beast" trailer on repeat.