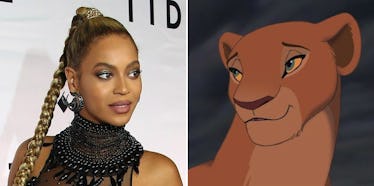 Beyoncé Might Be Voice Of Nala In 'Lion King' Remake And Twitter Is Obsessed
REX/Shutterstock/Disney
In the quest to remake every Disney movie that ever existed, Hollywood is hard at work casting a live-action remake of "The Lion King."
Donald Glover has signed on to voice future king of the jungle, Simba, and James Earl Jones -- whose immortality pact with Betty White and Satan has kept him working well into his 80s -- is reprising his role of Mufasa, but what about Simba's sassy, smart best friend and eventual lion lover, Nala?
According to Variety, director Jon Favreau hopes Beyoncé may be up to the challenge, despite being pregnant with twins.
The project, written by Jeff Nathanson, is being fast-tracked, which isn't a surprise given the recent success the live-action remake of "Beauty and the Beast" experienced at the box office this month.
Favreau and the studio are willing to move heaven and earth (both of which belong to Beyoncé, anyway) to accommodate Bey's schedule, sources told the site, and Twitter users are already getting their hopes up.
The internet discussed it amongst ourselves and it's unanimous: Beyoncé now, please.
Now that we have a taste for Bey, there's no one else who can step into this role.
Both Beyoncé and Nala are strong queens with eyeballs so bewitching every goddamn animal in cartoon Africa instantly falls in love.
FACE IT: THIS IS AS GOOD AS HAPPENING.
Of course, Beyoncé did announce her pregnancy in February, and subsequently dropped out of her spot headlining Coachella 2017.
The one glimmer of hope we have in these uncertain times is Beyoncé will be invited to perform as a voice actor for the film, which is certainly a less physically demanding task than tearing it up live on stage in Indio as a crowd of sweaty, wristband-wearing hopefuls await a religious experience.
It could be a long shot, but we're all keeping our paws crossed.
Citations: Beyonce Top Choice to Voice Nala in 'Lion King' Remake (EXCLUSIVE) (Variety)