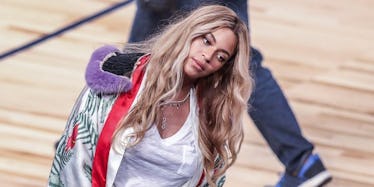 Beyoncé Canceled Her Coachella Performance, So You Can Return Your Tickets Now
REX/Shutterstock
OK, CALM DOWN. CALM DOWN RIGHT NOW.
Beyoncé's twins are more important than the three-day weekend you planned for yourself and your friends to sweat off your body paint in a California desert while you wait for the shrooms you bought off a white guy with dreads to kick in, Amanda.
The sad truth is Beyoncé won't make it to her scheduled performance at Coachella this year.
I SAID CALM. THE HELL. DOWN.
In a statement to the Associated Press on Thursday, Beyoncé's company Parkwood Entertainment and festival producer Goldenvoice claimed the Grammy winner had to back out of the two-weekend festival due to advice from doctors.
The statement read,
Following the advice of her doctors to keep a less rigorous schedule in the coming months, Beyonce has made the decision to forgo performing at the 2017 Coachella Valley Music & Arts Festival. However, Goldenvoice and Parkwood are pleased to confirm that she will be a headliner at the 2018 festival. Thank you for your understanding.
Of course she will, because Bey is strong enough to bear the children, then get back to business.
WHO RUN THE WORLD? CORPORATIONS! NO, I MEAN, GIRLS!
Fans can still check out remaining headliners Radiohead and Kendrick Lamar and can feel free to CALM DOWN in Beyoncé's absence.
Bey and husband Jay Z announced earlier this month they're expecting twins.
The couple welcomed their first child, daughter Blue Ivy, in 2012. Though Bey and Jay didn't use an epic Florida-Easter-funeral-glamour photo shoot to announce Blue's birth back then, the Queen still managed something so special, Kanye West nearly suffered an aneurysm.
Same, Ye. Same. Devastating as it is Bey won't be at Coachella this year, we'll all be metaphorically grabbing Jay Z's shoulders for the next [undisclosed period of time], until those twins are safely in our arms.
Right, sorry -- safely in Beyoncé's arms. Whatever. You know what I meant.
Citations: APNewsBreak: Beyonce out of Coachella; will perform in 2018 (Yahoo)