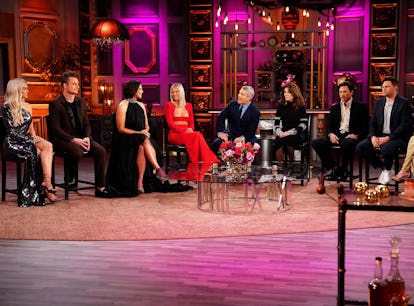 Every Season Of 'Vanderpump Rules,' Recapped In 1 Sentence
Get caught up in less time than it takes Jax to make a Pumptini.
Bravo/NBCUniversal/Getty Images
It's never been a better time to become a Vanderpump Rules fan. Thanks to a little cheating scandal involving three of the show's stars, the long-running reality series has gone from a niche interest for those entrenched in the Bravo-verse to this year's must-watch TV. And with more newcomers to the fandom than ever (the Season 10 finale had a record-breaking number of viewers), the need to unpack the history of this show is at an all-time high. Hell, after all the hookups, breakups, and thrown drinks in between, even longtime fans are due for a little Vanderpump Rules refresher.
Before we get into it, though, I have a confession: I only started watching VPR because of Scandoval (#bandwagonfan). To be fair, I'd been meaning to get into the show for a while now — if only to figure out who Jax Taylor is and why my friends couldn't stop talking about him — but as the years went on, it became more and more daunting to start a show with an ever-increasing number of episodes (and amount of twisted drama).
But much like Katie Maloney and Kristen Doute were required to do with Stassi Schroeder in the early seasons, I'm proving my loyalty… to the show, that is. In the three months since Tom Sandoval and Raquel Leviss' cheating scandal broke on March 3, I've not only watched the entire series through Season 10, but also immersed myself in VPR's parasocial world of podcasts, social media, and cocktail books. My brain may be slightly rotten now, but I am enlightened in the ways of these messy current and former SUR-vers.
Of course, not everyone has the dedication (OK, fine, free time) to commit so wholly to this show. But that doesn't mean you have to miss out on the fun of the unfolding reunion drama. Below, I humbly offer my season-by-season recaps of Vanderpump Rules up until this point, summarized into one sentence each to get you up to speed as quickly as possible. While they can't cover every unhinged moment from the show, they'll at least give you enough context to unpack the layers of James Kennedy calling Sandoval and Raquel "poo-poo heads" during the Season 10 reunion.
Season 1
The young, broke, and beautiful staff at The Real Housewives of Beverly Hills star Lisa Vanderpump's restaurant SUR are introduced through a series of drunken nights and catty convos: queen bee Stassi contends with rumors her BF-turned-ex, Jax, cheated on her; Katie (who's dating the not-yet-main-cast-member Tom Schwartz) has a hard time supporting her friend; Kristen struggles with this too, when she's not chauffeuring her ambitious and hairspray-loving live-in boyfriend, Sandoval; and aspiring pop star Scheana Marie attempts to shed her "mistress" reputation while being shunned by most of her fellow castmates.
Season 2
Fans meet Tequila Katie and her orange (at one point beer-soaked) hair as she clashes with Scheana; meanwhile, Kristen suspects Sandoval cheated on her with new SUR bartender Ariana, and Jax tattoos Stassi's name on his arm, which seems like a precursor to reconciliation until Kristen confirms she cheated on Sandoval… with Jax.
Season 3
Major upheaval this season: Stassi is no longer a SUR-ver; Schwartz admits to cheating on Katie in Las Vegas; Scheana marries Mike Shay in a crop-top wedding dress; and Kristen has a new BF (bombastic British busboy James Kennedy) but is still intent on breaking up Sandoval and Ariana, to the point that she's fired from SUR.
Season 4
Lala Kent and Brittany Cartwright join the chaos, originally both as potential love interests for Jax; he ends up with the latter while the former connects with James — after he and Kristen break up in a door-spitting rage, that is.
Season 5
Stassi, Kristen, and Katie put aside their past issues to team up against Lala (who is dating a mystery man) and James (whose alcohol-fueled antics get him fired from SUR); meanwhile, some major relationship changes: Katie and Schwartz get married, Scheana and Shay get divorced, and Lisa asks the Toms to go into business with her.
Season 6
So much relationship drama: Jax cheats on Brittany; James is accused of cheating on his new, college-aged girlfriend Raquel; both Stassi and Scheana fall for the wrong men; and Lala and James' friendship takes a nosedive as he insults her boyfriend and claims it really isn't about the pasta.
Season 7
After his father's death, Jax gets it together and proposes to Brittany; Stassi introduces the world to her new beau, Beau; Katie and Schwartz have a huge fight in Mexico (again); and James is accused of cheating on Raquel (again), gets fired from SUR (again), and considers quitting drinking (a first).
Season 8
Jax and Brittany, Schwartz and Katie, and Sandoval and Ariana each move into grown-up (and nearly identical) houses in the Valley; a whole new crop of restaurant staff joins the cast with ultimately inconsequential drama; Jax and Brittany get married with tons of friend drama in the lead-up; Stassi and Beau get engaged in a cemetery; and Raquel supports James in his sobriety journey.
Season 9
VPR loses half its main cast and all but one of the newbies, but never addresses their absence — instead, it's all about Rachella (aka James' marriage proposal to Raquel, bankrolled by Sandoval), Schwartz & Sandy's (the controversially named new bar project by the Toms), Lala and Scheana's babies, and Scheana and Brock Davies' first (failed) attempt at getting married.
Season 10
Following off-camera bombshell breakups of Lala and Randall, James and Raquel, and Katie and Tom, Lisa's husband Ken delivers the most stilted, scripted line in VPR history to reveal everyone was mad at the wrong Tom all along — because while Schwartz made out with Raquel, it was Sandoval who'd been carrying on an affair with her behind Ariana's back for months, the reveal of which has lit a fire under the series that could honestly sustain it for another 10 seasons to come.