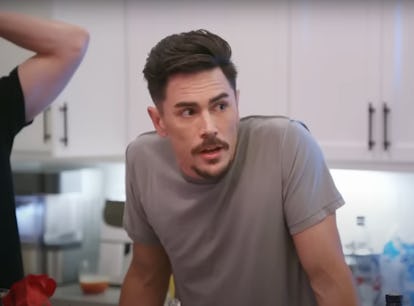 Your Watch Guide For Understanding The Vanderpump Rules Drama
You don't need a full rewatch, just revisit these ones.
Bravo
Vanderpump Rules just dumped a meteoric amount of delicious drama that the entire internet can't stop eating up, even people who may not be super familiar with the Bravo reality show. But don't worry — you don't need to watch almost 200 episodes of television to fully enjoy the Tom Sandoval, Raquel Leviss, and Ariana Madix scandal. If you want to completely immerse yourself in all aspects of the drama without putting in hundreds of hours, just watch (or rewatch) these 10 episodes of Vanderpump Rules that are essential to fully explaining the Scandoval.
Unless you've been living under a rock all March, then you've definitely heard chatter about Tom Sandoval breaking up with his girlfriend of nine years Ariana Madix after allegedly cheating on her for months with castmate Raquel Leviss. The breakup rocked the Vanderpump world, especially after jaw-dropping rumors poured out online about Tom and Raquel's secret relationship, like the gossip that they wore matching lightning bolt necklaces to broadcast their hidden love for one another, or the allegation that Sandoval's bestie Tom Schwartz 's rumored kiss with Raquel was a smokescreen to help hide the affair.
In light of this whirlwind of accusations, damning clips of Tom and Raquel from older episodes of Vanderpump Rules have been popping up all over social media. Clearly, now is the perfect time to jump into a Vanderpump marathon, but who has time to rewatch all nine seasons plus keep up with the currently airing tenth? If you want the juiciest Scandoval content, these are the only episodes you need to revisit.
Season 2, Episode 6: "Lisa's Angels"
Sandoval's sus behavior has a pattern, which is evident when you look back on the end of his relationship with Kristen Doute. In the middle of Season 2, Kristen began to suspect Tom was cheating on her with Ariana after discovering a text from Ariana on his phone about their shared love of Coachella. Fast-forward a decade, and Tom is paying for James Kennedy and Raquel's Coachella-themed engagement party, and then allegedly first hooked up with Raquel behind Ariana's back while at Coachella in 2022, a summer later. What a world to live in.
Season 2, Episodes 15 & 16: "Reunion"
To fully grasp the dramatics of Tom and Ariana's breakup, you first have to know how they began. All of Kristen's suspicions about Tom cheating on her proved true in the now legendary Vanderpump Rules Season 2 reunion, when Tom admitted he was seeing Ariana.
Season 3, Episode 1: "Instafight"
With Tom and Kristen's relationship officially over, he began dating Ariana publicly. But their newfound relationship was constantly put to the test by Kristen, who repeatedly tried to expose Tom's alleged infidelities. In the Season 3 premiere, Kristen tracked down a woman she believed Tom hooked up with while on a trip to Miami, setting off yet another major cheating scandal for Tom early into his and Ariana's courtship.
Season 3, Episode 13: "Miami Vices"
The "Miami Girl" arc came to a halfway through Season 3, when Kristen invited the woman to SUR during Tom's shift to confront him. Rather than clear things up, Tom bolted right when he saw her enter the restaurant, jumping in a car with Ariana and driving off. It was a pretty obvious admission of guilt, but Ariana stood by him despite it all, as she'd continue to do for the next eight years.
Season 7, Episode 15: "Trouble in Lala-Land"
Enter, Raquel. She first began appearing on Vanderpump Rules in Season 5, and took more and more of a central role as her rollercoaster relationship with James Kennedy proved endlessly chaotic. She didn't exactly get along with most of the cast at first, especially Lala Kent. In one of the most quoted moments involving Raquel, an enraged Lala called her a "Bambi-eyed b*tch" after Raquel accused Lala of trying to create a story-arc using her father's recent death at the time. The alliterative insult went down in Vanderpump history, and has resurfaced in light of Scandoval, as viewers are coming around to Lala's side of things.
Season 8, Episode 2: "Training Days"
One of the main reasons Ariana became a fan-favorite for viewers was how open and honest she was about very real struggles, like her battle with depression. She got into her mental health struggles in powerful conversations with Lisa Vanderpump and her boyfriend Tom at the start of Season 8, which prompted Tom to reassure her that he wasn't "going anywhere" and would always be there for her. The moment reads much differently three years later, when sources close to Tom used Ariana's depression against her by claiming in early March 2023, "Tom said he didn't tell her about the affair with Raquel because he was worried about how it would impact [Ariana's] mental health," per Page Six.
Season 9, Episode 10: "Sexy Unique Feet"
It's definitely incredibly cringe to look back on Ariana and Raquel's friendship knowing what we know now. In the middle of Season 9, Ariana went so far as to host a party where the Vanderpump women took and sold feet pics in order to raise money for Raquel's second nose job after James told her he couldn't look at her because of what he thought was an initial plastic surgery debacle.
Season 9, Episode 15: "Engagement Party Crashers"
The first major sign that Tom and Raquel may be more than just friends came in the Season 9 finale, when Tom spent a whopping $25,000 on Rachella, the Coachella-themed engagement party for Raquel and James. At the time, it was incredibly sus that Tom would throw down so much money for another couple's engagement, especially when he and Schwartz were in dire need of finances for their new bar, but now it's clearer why Tom had a special place in his heart for giving Raquel and James the best party he could afford.
Season 9, Episode 16: "Reunion"
The body language experts will want to spend some extra time analyzing Season 9's reunion, which is where many fans have pointed out on subtle clues about things starting to form between Tom and Raquel. The big event of this reunion, though, was the dissolution of James and Raquel's incredibly short-lived engagement.
Season 10, Episode 4: "No Home Left to Wreck"
It's unclear just how much the currently airing Season 10 will delve into Tom and Raquel's secret affair — so far, it looks like Raquel's storyline will focus more on a possible fling with Schwartz, which fans believe is actually a calculated misdirect to cover up her real relationship with Sandoval. The whole facade kicked off in Episode 4, when Raquel stirred up controversy by telling Schwartz's ex-wife Katie that she tried to make out with him, all while Ariana sat there and did her best to have Raquel's back.
Extra Credit: Watch What Happens Live — Feb. 8, 2023 and March 1, 2023
To really get the latest scoop on the Scandoval, two recent What What Happens Live eps are a must-watch. On the Feb. 8 episode, Schwartz proved just how loyal he was to Sandoval during a game where he said he would defend all of his bestie's questionable choices, including spending all that money on Rachella. Sandoval also made it very clear he didn't regret it. Meanwhile, Schwartz had fans wondering what was up when he consistently looked to his BFF for answers to Andy Cohen's questions, sparking speculation about what the other Tom knew about this affair, and when.
Just a day before the Scandoval news broke, Raquel appeared on WWHL to talk about how she became suddenly interested in Schwartz. Then, later in the show, Raquel flat-out admitted she found Sandoval hotter than Schwartz.
There's also the news that Ariana reportedly texted both Raquel and Scheana during or just after this taping when she found sexually explicit messages between the young Pump Rules star and her boyfriend. Afterward, Shay reportedly physically attacked Raquel. So, watch their interactions in this episode very closely.
And with that, you're officially fully caught up on all things Scandoval. New episodes of Vanderpump Rules Season 10 air Wednesdays on Bravo and stream on Peacock the day after. Make sure to take note of every sideways glance Sandoval and Leviss throw at each other, as the season began filming just when this alleged affair really started to heat up.