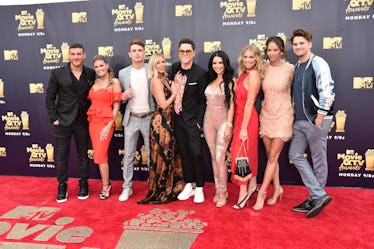 Here's How Much The 'Vanderpump Rules' Cast Has Changed In The Last 5 Years
Alberto E. Rodriguez/Getty Images Entertainment/Getty Images
For the past five years, the Vanderpump Rules cast has SUR-ved up more drama-filled storylines than they have goat cheese balls (which any VPR fan would know, is also a lot). Although the group's dysfunctional dynamic has made for great television over the series' six season arc, a lot has shifted in the time since its premiere and the photos of the Vanderpump Rules cast then and now proves just how much.
The Real Housewives of Beverly Hills spinoff debuted with modest numbers in January 2013, and intended to capitalize on the conflict between Lisa Vanderpump's SUR employee, Scheana Marie, and her RHOBH co-star, Brandy Glanville. The aftermath of Marie's affair with Eddie Cibrian, Glanville's ex husband, played out on its parent series, but failed to capture viewers. Instead, the show garnered success as the audience narrowed in on a more interesting angle: the tangled relationships of Scheana's fellow sexy unique restaurant staffers. With loyalties and romances shifting on the regular, West Hollywood's most attractive waitstaff became a hit. While, Stassi Schroeder continues to deliver impressive one-liners, and Jax Taylor still cheats on every girl he dates, so much has changed since the show first aired.
Stassi Shroeder
She doesn't know what she's done, but she'll take a pinot grigio. SUR's mostly reformed mean girl Stassi Schroeder was kind of a terror in early seasons. When she wasn't reminding her on-off boyfriend, Jax Taylor, that "I am the devil. And don't you forget it," she was working as a SURver, writing for Pandora's fashion website, and doing her best to make Scheana feel unwelcome. But following her 2015 break from the series, and shortly after apology tour, Schroeder has played nice. Or at least, nicer. Upon hanging up her SUR dress, the reality starlet launched her podcast, Straight Up With Stassi and has found a more monogamous partner in her current beau, Beau Clarke.
Jax Taylor
Well, it's the day I never, ever, ever saw coming: Jax Taylor is an engaged man. When we first met the former model and SUR bartender back in 2013, he was everything you didn't want in a boyfriend. After his season one cheating scandal, Taylor garnered a reputation as VPR's resident lothario. And despite empty promises of change, he slept with ex-girlfriend Stassi's best friend, Kristen, who was also dating his best friend, Tom Sandoval. Yep. He continued to date and cheat on a slew of others before meeting southern sweetheart, Brittany Cartwright. But then, you guessed it, he cheated on her too. Following their tumultuous season six breakup, makeup, and breakup again, they reunited off-screen ahead of the reunion. They professed their undying love and were engaged shortly after, but I can't ignore the whole "a leopard never changes its spots" thing. Here's hoping he proves me wrong.
Scheana Marie
When the series first premiered, Scheana wasn't on good terms with anyone. She was still very much embroiled in Eddie Cibrian drama and dealing with her unwelcoming Pump Rules co-stars. In the years since her reality TV debut, Marie has found her way in and out (and in and out again) of SUR's inner circle. She's since split from her season one love, and eventual husband, Mike Shay. She quickly coupled up with former flame, Rob Parks-Valletta. I mean, the dude can hang a television in under seven minutes. But since calling it quits, Scheana's made the move to Vegas for her starring role in Sex Tips For a Straight Woman From a Gay Man. And she's inevitably on the hunt for a man that can hang a TV in under six minutes. Hit her up if you know someone.
Katie Maloney
At the start of VPR, Katie was Stassi's quiet sidekick that occasionally got too drunk and fought with her "bubba," Tom Schwartz. That is until the Utah native and SURver had enough of Schroeder's antics. She admitted in her Bravo blog that her BFF's abrupt exit from the series left her "abandoned, confused, and quite frankly heartbroken" and it took her awhile to forgive. Although, the pair has since reunited, Maloney saw another rough patch in season five. Tequila Katie became bridezilla Katie, and honestly, it was worse. Mr. and Mrs. Bubba's march towards the altar turned into a stumble after some rage texting and choice words (notably her implication that Schwartz' bedroom performing was lacking). The newlyweds survived their first year of marriage, and have starting talking about kids. She also runs the beauty site, Pucker and Pout, and launched an affiliated lipstick line in April.
Kristen Doute
Oh, Kristen. Like Katie, Kristen started out as one third of Stassi's gal pal trio. But after her sexcapades with Jax and that infamous slap, Doute was done. Her and longtime boyfriend, Tom Sandoval finally ended their toxic relationship, and she began a questionable fling with newcomer James Kennedy. Fast forward a few years, and Kristen's life is seemingly back on track. Her friendships are fully intact. Years later, Sandoval unblocked her on social media and has become newly tight with his girlfriend, Ariana Madix. Can't say I saw that one coming. Doute celebrated her recent James Mae T-shirt launch alongside the cast, and boyfriend Brian Carter in June.
Tom Sandoval
I'm sorry, if you're not a Sandoval fan, sit down. The ever-endearing model, actor, musician was shaving his forehead, straightening his hair, and denying cheating rumors left and right in season one. Side note: I'm sensing a pattern with this group and monogamy. While his friendship with Jax and Schwartz hasn't changed (nor has affinity for grooming), Sandoval has moved on up from his early SUR days. He's found his match in Ariana Madix, and teamed up with Schwartz, Lisa Vanderpump, and Ken Todd for the opening of their namesake bar, Tom Tom.
Tom Schwartz
Unlike his castmates, Tom Schwartz wasn't SUR staffer. Instead, he made his Vanderpump Rules debut as Katie Maloney's bubba, and Jax and Sandoval's best friend. His season one shining moment came during Stassi's birthday celebration, when he boldly tossed a drink on the bday girl. Definitely wasn't wise to cross Schroeder. Clearly, it didn't affect their friendship too deeply as Stassi made a surprise appearance on Schwartz and Maloney's honeymoon. He's now got a wife and a restaurant - a far cry from the panicking Pump bartender he once was.
Ariana Madix
Ariana made her start on Vanderpump Rules as a Villa Blanca bartender, and the maybe-mistress of Tom Sandoval. Doute was obsessed with proving her man's indiscretion, and spent nearly all her time being crazy and searching for evidence of an affair. Meanwhile, Madix was busy bashing Kristen to BFF Scheana Marie. "I'm smarter than you, I'm prettier than you, get the f*ck over it, and move on with your life," she famously said. Years later, Madix is still with Sandoval and shockingly, friends with Kristen. Yes, really!
Brittany Cartwright
In season four, Jax introduced his live-in girlfriend, Brittany Cartwright, to Lisa Vanderpump in hopes of scoring her a SUR gig. But LVP was hardly impressed with his Kentucky love, and Cartwright wound up taking a job at Hooters. She not only beat the odds by merely sticking, but unlike former newcomers, she quickly became universally adored by the cast. She eventually earned her spot at the West Hollywood hotspot, SUR, before nabbing a ring from Jax in June. This girl is Wonder Woman, apparently.
James Kennedy
James Kennedy made it onto the reality show in season 3 after striking up a relationship with a down and out Kristen Doute. However, "the white Kanye," as he humbly referred to himself, cheated on his then-girlfriend, was weirdly possessive of Lala Kent, and lost his SUR job. Now, the VPR DJ has moved on and into a new apartment with girlfriend, Raquel Leviss, and gotten back into the good graces of Lisa. He is still weirdly possessive of Lala though. Also, it's not about the pasta.
Lala Kent
Like most of the Pump Rules new kids, Lala was not exactly loved upon arrival. In fact, she quickly became frenemy number one after finding conflict with Katie Maloney. Following a series of body shaming comments directed at Maloney, and Katie's own slut shaming retorts, Lala mended things with her co-stars. And shockingly, become quite close with the crew. The SUR hostess, who's happily dating "her man," Randall Emmett, was also recently cast in The Row.