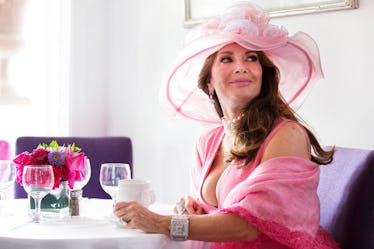 Here's How Much Money Each Member Of The 'Vanderpump Rules' Cast Makes
Isabella Vosmikova/USA Network
Here's a confession: I'm a big Vanderpump Rules fan. Unlike many other reality TV shows, Vanderpump Rules doesn't really try to hide the fact that it's a little bit scripted, and I love it. I mean, these people are getting paid to start drama on TV, and they definitely know that the bigger the drama, the bigger the payday. So, how much does the cast of Vanderpump Rules get paid to create all this "truthful" conflict? The Vanderpump Rules cast salaries were just revealed, and the numbers are much, much higher than you'd think.
According to In Touch, each cast member earns a different salary for appearing on the show. They can also earn additional money when they're not filming by promoting products on social media and making appearances. Naturally, boss Lisa Vanderpump brings in the most money for her time on the eponymous Vanderpump Rules, and her many SUR and Villa Blanca employees earn varying amounts depending on whether they're a main or recurring cast member. In Touch reports that starring in Vanderpump Rules makes up most of each cast member's net worth, but the stars' side projects (like Stassi Schroeder's accessories collection or Jax Taylor's modeling career) also contribute to their overall wealth.
OK, now for the staggering numbers. In Touch reports that Vanderpump, who also stars on The Real Housewives of Beverly Hills, makes a whopping $500,000 for each season of Vanderpump Rules. That may seem like a lot, but it's nothing compared to her $75 million net worth, which she's amassed by owning over 26 restaurants and businesses with her husband Ken Todd. With all of Vanderpump Rules' drama, it's easy to forget that SUR and Villa Blanca are actually real restaurants that are bringing in a massive amount of money each night.
After Vanderpump, the next-highest paid Vanderpump Rules cast member is Jax Taylor, who reportedly makes $25,000 an episode for scheming through life. He's the cast member fans love to hate, but clearly, Bravo recognizes his value to the franchise and has rewarded him for the drama he creates episode after episode. In Touch estimates Taylor's net worth to be $400,000, much of which comes from his Bravo salary.
Jax's co-workers Schroeder and Kristen Doute bring in slightly less than the male model: they make $15,000 per episode each, according to Riot Housewives. Outside of Vanderpump Rules, Schroeder has had some success with her accessories line and influencer career, leading her to amass a reported $300,000 net worth. According to In Touch, Doute is worth $200,000, which she's earned through her various acting jobs in small films like Blood on Canvas and 23 Minutes to Sunrise.
SUR's resident bartender Tom Sandoval also makes a reported $15,000 per episode, but he didn't always make that much. In 2016, his agent filed a lawsuit alleging that he wasn't being paid properly by Sandoval, and the court filings showed that the star only earned about $38,000 total for the first two seasons of Vanderpump Rules (averaging to about $1,400 per episode). However, according to In Touch, he was upped to a $15,000 per episode salary for Season 4, and he's since amassed a net worth of $400,000.
At the lower end of the Vanderpump Rules pay scale is Scheana Shay, who makes a reported $10,000 per episode. Before starring in the Bravo show, Shay appeared in popular series like Greek, 90210, and Victorious, as well as in The Real Housewives of Beverly Hills. These roles, plus her Vanderpump Rules salary have helped her net worth climb to $50,000, which, while less than her co-stars, is still pretty impressive.
Are you ready to become a reality TV star yet?