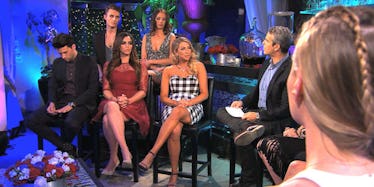 I Ate At SUR The Night They Filmed The 'Vanderpump Rules' Reunion There
Bravo
Last night was the first episode of a three-part reunion series for Bravo's hit TV show, "Vanderpump Rules." The scene is set at SUR, Vanderpump's sexy if not eccentric bar located in West Hollywood, and the cast and crew assemble in the now iconic horseshoe layout as host Andy Cohen settles in the middle. Everyone is too tan, too greasy, showing too much skin and too much teeth and all the action is just about to begin.
Magic is in the air, you guys. I should know because I WAS THERE, JERKS!
Yup. Me. Sitting right outside the room they were filming in, shoving goat cheese balls into my mouth and getting Wet N' Wild lipstick all over the white linen napkins.
This is a true account of what happened that night.
The Reservation
This past February was my first trip to Los Angeles and SUR was first on my agenda. It was my boyfriend's birthday, and all I really hoped for was a glimmer of something familiar to us from the show.
The only reservation available was at 5:45 pm on a Friday. We arrived promptly and dressed, well, maybe accordingly. I put on enough makeup that it felt like my face was melting and I was rocking some serious side boob. My boyfriend wore a suit, which will turn out to be CRUCIAL to this story.
Very calmly, we approached the hostess stand. Some leggy redhead who I've never seen on the show like not even once sat us not only outside, but BEHIND A PILLAR, blocking us from any view whatsoever.
Our waiter, an older man with a thick accent rushed over, took our drink order an,d just before disappearing behind the insane Buddha statue that guards the entrance mumbled, "Sorry about seating you out here. Most of the restaurant is closed because we are shooting the reunion tonight." You. F*cking. Guyyys!?!?!?
The Realization
What I heard was, "EVERYONE IS INSIDE INCLUDING ANDY COHEN AND THEY ARE ALL HERE TO MEET YOU, JAMIE! THANK YOU, WE HAVE BEEN WAITING!"
I all but punched him in the face.
We had barely ordered our first round of drinks when Ken Vanderpump, Lisa's husband, walked right in (like he owned the place or something) carrying Giggy, their supes famous pup. I stared as he disappeared around the Buddha and bursts of iPhone cameras flashed before my eyes.
Turns out, everyone lucky enough to have been seated INSIDE the restaurant was a fan as well, and they each wanted a photo of the sex monster. Giggy, that is. Duh.
I was preparing to drop my shoulders and charge the redhead blocking the entrance when Vanderpump's son, Max, walked right up to our table to drop our off our entrees.
Momentarily stunned like a shark when you punch its nose, I sat in my chair hovering near delirium. My boyfriend told me to play it cool. I told him HAPPY BIRTHDAY, YOU SH*THEAD.
The Selfies
One by one, the cast members started strolling by. Some very southern lady lost all control and began openly shouting as they passed. "JAX!" she screamed, "JAX, A PHOTO PLEASE FOR THE LOVE OF GOD!!!" I gained confidence through her hysteria and jumped up too. ​ Here is what you must know about Jax Taylor IRL: He is truly, really, very-very-very attractive. He has a super soft touch. He smelled delicious. He didn't say one word.
Next up, I "had to go to the bathroom" -- which is code for spying -- and standing right next to the ladies room looking surprisingly sexy AF was Peter, rocking his trademark ponytail. I didn't say anything, but instead just watched his mustache move as he chatted with a crew member.
Blinded by Peter's broad shoulders and glossy locks, I all but MISSED infamous frenemies Katie Mahoney and Kristin Doughty walking right past me to the kitchen.
Just before they were gone for what I can only assume was forever, I blurted, "Excuse me! May I, like, take a photo?" Both, very beautiful and very thin, smiled and said, "Sure."
With a shaking arm, I held out my camera for the selfie to beat all selfies and took the masterpiece below. Here we all are right after they agreed to be my new best friends:
High on life and Kristen's self tanner, I skipped back to my table and ordered a birthday dessert with a SUR sparkler for my boyfriend.
For a brief moment and almost like a hallucination from heaven, Lisa herself breezed past us.
I only saw her back, but damn was it immaculate.
We were satiated and happy. This night could not have gone better….OR COULD IT?!
THE James Kennedy
On our way out, we decided to walk around the building to check out the trailers and production crew. As we turned a corner, we LITERALLY ran into James Kennedy, aka THE MOST hateable human on television.
Overflowing with confidence and tequila, my boyfriend struck up conversation. This is, hand to God, their interaction:
BF: James! Hey man, can we get a photo?
James: Yeah, sure! I love your suit, dude.
BF: Oh man, thank you. It's Zara.
James: Oh, Zara sponsors me. I'm wearing head to toe Zara now.
BF: **blinks a lot**
James: Can we make this quick? We just shot the reunion and I need to get drunk.
Me: How did it go?
James: UGH, I called everyone an assh*le. I stood up and pointed at all of them and said, you're an assh*le! You're an assh*le! And YOU'RE an assh*le.
Me and BF: Hahahalolololomgomgrightrightright.
James: Anyway, have a good night. Great meeting you guys.
Wait a second, is James like, THE BEST?!?!
I can't stress enough that this is the same guy who spit on Kristen's door and carelessly throws around the words "bitch" and "whore" and "slut" for funsies.
The Finale
Not able to believe our luck, we turned the next corner only to find Lala standing there chatting with a friend. At least, I'm pretty sure it was Lala. It was hard to tell underneath the camouflage/leggings combo, 9-inch fingernails and pounds and pounds of eyeliner.
We asked her for a photo and my boyfriend, now acting like some egotistical maniac, handed LALA'S FRIEND the camera and she snapped this photo where I look like a soccer mom trying too hard and Lala looks like a human being I've never seen before.
All in all, the night was a dream come true.
The Reunion: Part 1
Last night and a whole month later, my boyfriend and I settled onto our couch to watch the first part of the reunion.
As expected, the first five minutes are dedicated to defaming James, but the true star of the evening is the color differentiation between Tom Sandoval's hands and his contoured face.
Lisa looks amazing; Andy is at his best.
If you watch very carefully and turn the volume all the way up, you can just make out the sound of my heavy breathing and the munching of goat cheese balls.