Everything I've Learned About Love (So Far)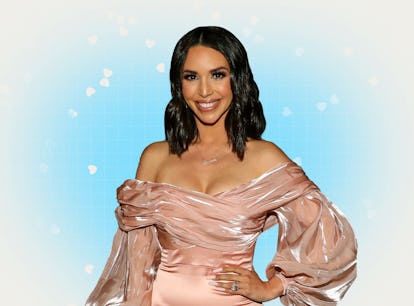 Vanderpump Rules' Scheana Shay Finally Got Her Happy Ending
Brock Davies is her "perfect other half."
Elite Daily; Paul Archuleta/Getty Images
Scheana Shay has spent a decade starring on Vanderpump Rules, so she's gotten pretty used to the reality TV filming cycle: She lives her life in front of cameras for a season or two; then, when the show is released months later, she's forced to relive it in the public eye. When asked if it ever feels strange to co-exist in the past and present, her response is immediate: "This season more than ever."
Season 10 has centered around one earth-shattering betrayal: a seven-month affair between VPR castmates Tom Sandoval and Raquel Leviss. All but the finale episode was filmed before the news broke, so even the cast members are seeing things very differently then versus now. Shay, who's best friends with Sandoval's now-ex Ariana Madix, and was close friends with Sandoval and Leviss before the scandal, says watching this season back has been difficult. She's lost two close friends and realized they weren't the people she once thought.
"I'm keeping my walls up a little more now, but I don't want to let this completely close me off," Shay says. "I don't want to never meet someone new again because of what Raquel did to me. I don't want to not have a close male friendship because of what Tom did." She wishes she'd been a little more cautious, but she doesn't want to stop trusting people entirely.
Scandoval drama aside, the 38-year-old has a lot to be grateful for — her relationship with her husband Brock Davies and daughter Summer, first and foremost. Here, she talks about their love story, dating on TV, and her advice for supporting a friend going through a tough breakup.
Elite Daily: Congratulations on your wedding! It was so fun to watch it during this season of VPR. What were you most excited for viewers to see?
Scheana Shay: Honestly, just the fact that I have a good man who really loves me, and we've built this beautiful life and family together. That's why Brock was adamant about proposing during Season 9. He told me, "The world needs to see that you are loved." Bringing our families together and having an epic event was just the best — and we got to show people that you can get divorced, fall down, get back up, and have your happy ending.
Everything that week went so seamlessly well, down to the fact that a rainbow came out of the sky right before I walked down the aisle to "Somewhere Over the Rainbow." I don't even think cameras captured it.
ED: That's such a little sign from the universe. Is there anything that you think fans might be surprised to know about your relationship with Brock?
SS: No, I feel like we put it all out there. Brock is such a loving and supportive partner. He is this big teddy bear. It's almost annoying at times because he's constantly pushing me to be the best version of myself and sometimes I just want to be lazy and give up. He doesn't let me do that. He's my perfect other half, and we just complement each other so well.
ED: You were introduced by mutual friends and then he slid into your DMs. Do you remember his opening line?
SS: Yeah, we were at an after-party in San Diego after a music festival, and he came over to me and we started chatting. The next morning, I was checking my DMs, and his handle was B.The.Lion at the time. I'm like, "Who's B.The.Lion? That profile picture looks kind of hot."
I opened it and was like, "Oh my God, it's that guy from last night." He asked me to a Rams game, and I responded, "I like that you led with football — wrong blue and yellow team, but if it's not a home Chargers game, I'm always down for any sporting event." Then we went to the festival again together that night. He did the Dirty Dancing move with me and planted a kiss on me, and the rest is history.
ED: What's the most meaningful thing you've learned from Brock?
SS: To always believe in myself and to know that I'm a good mom, a good friend, and a good person. I have to remind myself of that all the time. But he doesn't let those insecurities come out. He amps me up in the best ways, even when I'm having a sh*tty day. He doesn't let me feel sh*tty.
ED: You were also single and dating for a while after your divorce. What's your advice for making the most of single life? What's the best way to meet people?
SS: Be open to the possibilities of relationships, but also keep your walls up a little bit and protect yourself. It's easy to do one or the other: to be super trusting and open, or to completely have your walls up. Try to find that happy medium.
ED: With everything that's happening on VPR, what has Scandoval taught you about navigating friendships?
SS: It's definitely been eye-opening. I've learned to not be as trusting and to ask more questions. Anything Lala and Katie would say [about Sandoval and Leviss] that they thought was weird, I was like, "No, you don't know our friendship. I would do that with Sandoval, too. That's not weird." I never took a step back to listen to their perspective until the end of January, when I realized, "You know what? That behavior does rub me the wrong way." Then I started seeing so many more signs. When you're in it and you love someone, you don't see the other side.
ED: What's your best advice for supporting a friend who is going through a breakup?
SS: When someone's going through something like this, they don't always know what type of support they need. Try to be there for them by asking the right questions, but also giving them space and letting them know, "I am here, but I don't want to overwhelm you."
I have a group chat with all of Ariana's closest friends, and every day after the scandal we'd text, "OK, who's on lunch shift? Who's spending the night with her tonight?" We made sure we had her covered, and someone was always there with her until she felt OK staying in that house alone with him coming in and out. Having that open line of communication with the inner circle really helped all of us get through this.
ED: I'm glad you're all starting to come out the other side. On a more positive note, do you have a favorite celebrity couple you admire?
SS: They're friends of mine, but I'm obsessed with the D'Amelios. I know them from watching them on TV and TikTok, and I met Heidi when she did my podcast. They just celebrated their 23rd wedding anniversary and I'm like, "You guys are couple goals." I definitely look up to them.
I'm also obsessed with John Legend and Chrissy Teigen. They show how to be a strong couple in the limelight while also being parents, but also going through some massive heartbreaks that no one should ever go through.
ED: You've spent a lot of years in the limelight, too. Are there any misconceptions people might have about your love life from watching you on reality TV for so long?
SS: I don't even know if it was a misconception, I think I was just a little crazy. I was Rob-obsessed during Season 6. I regret that season, but you know what? I don't want to regret loving someone. Same with Raquel — I'm not going to regret being a good friend to her this season, because that's how you should be when you're best friends with someone. I put it all out there, I wear my heart on my sleeve, and some people can see that as obsessive and annoying, but I just love hard and want to be loved hard in return. That's why Brock is perfect for me, because he gets that.
ED: It sounds like love is really important in your life. What does it mean to you?
SS: When you love someone, you've got to be all in. There's no, "I half love you." You've got to be 100% in and fully support the other person. Brock and I would not be where we are if we didn't support each other in every aspect of life. We always have each other's back. I think that's really what love is: communication and support.
This interview has been condensed and edited for clarity.