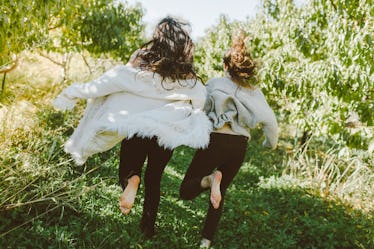 4 Ways To Help Your Friend Through A Breakup That Every Woman Needs To Know
At some point or another, we've all wondered how to help a friend through a breakup. Because honestly, watching your BFF deal with the ending of a relationship can be — in a word — torture. You feel unparalleled empathy for your bestie, so in a way, you actually feel their pain. And watching them go through the cycle of denial, confusion, sadness, and anger is even more draining when you've been through a difficult breakup yourself. Not to mention, it can take a toll when every single one of your conversations now revolves around the ex. You can only hyper-analyze their former flame's final texts or evaluate their flaws so many times, after all.
It's tough to know which tactics are going to be most helpful when a friend is nursing their wounds. Should you indulge in their ex-bashing? Should you change the subject? Should you try to get their mind off it? Fret not. I spoke to clinical psychologist and host of "The Kurre and Klapow Show," Joshua Klapow, Ph.D., to find out the best ways to help your friend heal.