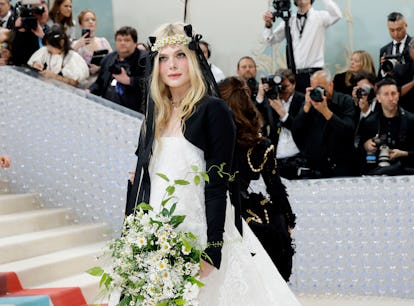 Elle Fanning Wasn't Cast In A Big Movie Because She Didn't Have Enough IG Followers
Mike Coppola/Getty Images Entertainment/Getty Images
You need more than just pure talent to make it as a major movie star these days, and Elle Fanning isn't afraid to call that out. The actor has carved out prestigious niche for herself as an indie darling throughout her career, but breaking into the Marvel/Star Wars franchise machine has proven difficult... and not for the reason she expected. Fanning revealed that after she auditioned for one of these massive franchise movies, she was told she "didn't have enough Instagram followers" to land the part.
Fanning opened up about the jarring experience on the May 11 episode of the Happy Sad Confused podcast. When asked if she's felt pressure to star in a big studio franchise movie, Fanning revealed her audition horror story: "I did try out for… I'm not going to say what it was, but I didn't get a part once for something big because — it might not have just been this reason, but this was the feedback that I heard — was because I didn't have enough Instagram followers at the time," Fanning said. "So that was a little like… I firmly don't believe in not getting a part [for that]. It was for a bigger thing, a franchise thing."
She didn't reveal what the movie was or what her social media following looked like at the time, but her Instagram currently has over 6 million followers.
Fanning went on to say she can relate with her The Great co-star Nicholas Hoult over the rejection from more mainstream blockbusters. Though both actors did have their big franchise moments — Fanning in Maleficent and Hoult in the X-Men movies — they've been most celebrated for their non-Disney/Marvel roles. Hoult recently revealed he lost out on starring in 2022's The Batman to Robert Pattinson, which Fanning recognized as a painful experience. She said she'd be careful about jumping at another franchise movie after what she's seen and learned.
"I would never say no to those things, but I would have to have a meeting and really talk to see what it is," Fanning said. "I didn't have to go through what Nick did; they made him try the [Batman] suit on. You need a balance. If you want to do your indie work, especially in producing now, [having a big franchise] does make you breathe better."