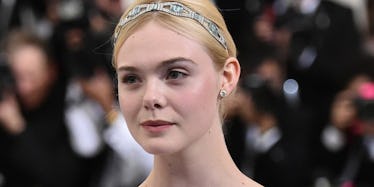 Elle Fanning Made Her Vogue Cover Debut And She Looks Absolutely Gorgeous
Getty Images
Knock knock.
Who's there?
ELLE FREAKING FANNING, THAT'S WHO, MOTHER-EFFERS.
That's kind of how I imagine Vogue Magazine feels this month, releasing the June issue with beautiful baby angel Elle Fanning 0n its cover.
Elle is rocking a flower crown, porcelain skin and probably a paycheck that could cover all my childhood expenses 10 times over.
I mean, look at this human.
I SAID LOOK AT HER.
Now watch this weird video Vogue made utilizing a thousand "fan" puns!
OK, OK, OK, you get the picture -- the literal, gorgeous picture.
Sure, while Elle's older sis Dakota Fanning jumped on the big screen technically before her, Elle has been playing the long-game and began acting at the age of 2. Still, in her Vogue interview, she gives credit to her sister for getting her started.
You think, 'Gosh, if I didn't have a sister who started acting, would I be acting?' It's scary to think of not being able to do movies still.
She also insists there is no rivalry between her and Dakota, stating, "There's no one I want to see succeed or soar more."
Now, the 19-year-old actress has a spotlight all her own, starring in the Sofia Coppola's drama "The Beguiled" and co-starring with greats like Naomi Watts and Susan Sarandon in "3 Generations."
While Elle brags about having a huge temper later in her interview, that might be the only childish thing about her.
As a blooming young celebrity, you would think she would be as hooked to her social media presence as some of her teenage celebrity peers, but that is not the case. In fact, she doesn't even have Facebook or Twitter.
However, she did recently join Instagram, though Elle expresses nervousness about posting pictures to her million followers.
She said, "Before you share, you get nervous: You can't help but have those flashes."
Funny, for a girl on the cover of Vogue MOTHER-EFFIN Magazine.
Citations: Elle Fanning Graces The Cover Of Vogue's June Issue (People)