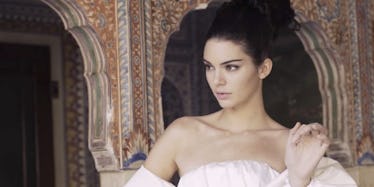 Kendall Jenner Looks Gorgeous In Behind-The-Scenes Vogue Photo Shoot
Youtube
If there was any doubt in your mind that Kendall-the-model-Jenner may not be exactly the "real couture deal," her latest Vogue India photo shoot should settle it once and for all.
Verdict says? YES. YES, SHE IS THE REAL DEAL.
Seriously, she looks insane. Like, insane in a good way. Like, insanely gorgeous... insanely regal, insanely mysterious and approachable at the same time.
Vogue released a behind-the-scenes video of her photo shoot, and trust me when I say: Come for the Kendall Jenner, stay for the painted elephant.
The 10th anniversary issue was guest-edited by legendary photographer Mario Testino, and damn is it good.
Kendall looks much more at home, smiling in her makeup chair in this incredible Indian scenery than she ever has on one of her sister's couches on "Keeping Up With The Kardashians," and we don't blame her.
The footage the crew captured is nothing short of stunning, featuring vibrant locals, intricate backdrops and passion-fueled colors and textures.
In a statement, Testino said,
Different elements of India have influenced my world — and in turn this issue. It's the people, the art, the colors, the elephants and everything in-between. I wanted to bring my world truly to this amazing nation, by shooting the issue in India. I wanted it to stay true to the Indian spirit.
* aggressively searches the internet for cheap flights to India * * googles, "How much do elephants cost?" *
The video not only highlights Kendall's stupid cheekbones and outrageous eyebrows, but it also features Bollywood royalty Katrina Kaif and Sushant Singh Rajput (who is also just, like, not that bad on the eyes, if I do say so myself).
In addition to a hard copy of the magazine, they will also be releasing 500 limited-edition prints of Kendall to support Girl Rising, an organization dedicated to the education and empowerment of girls.
Great work all around, everyone. We did it, everybody. Thank you for your time.
* Pats self on back. Goes to Dunkin' Donuts. *
Citations: Kendall Jenner Stuns Behind the Scenes of Vogue India's May Cover Shoot (Eonline)