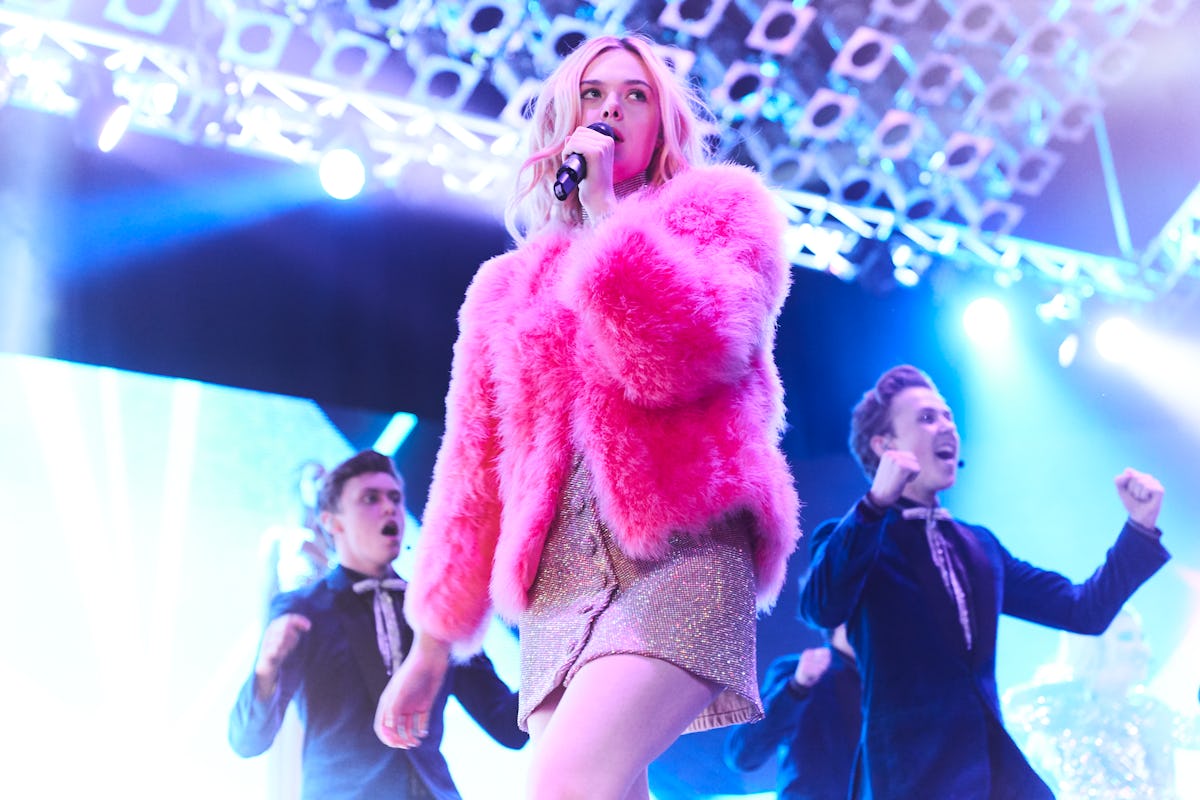 Elle Fanning Is Expanding Her Range With A Movie About A Singing Competition
We've been watching Elle Fanning on our movie screens for years as she's refined her skills in film after film, smoothly transitioning from child star to bona fide adult actor. And in her new movie Teen Spirit (in theaters April 12), Fanning is charting new frontiers and doing some of the most exciting work of her career.
In Teen Spirit, Fanning plays a timid teen named Violet, who lives in a small island town off the coast of England and dreams of finding success and stardom as a pop singer. If she can make it in that glamorous, brutal world, Violet thinks, she'll finally be able to transcend her humble beginnings. When she enters an international singing competition and lands the help of a kind mentor named Vlad (Zlatko Buric), Violet's dream becomes feasible for the first time, although her ambition and talent will be tested in the process.
Written and directed by Max Minghella, Teen Spirit also stars Rebecca Hall and Agnieszka Grochowska. From the incredible soundtrack to the stage-ready fashion to its formidable star, this film might just inspire your whole 2019 vibe. Read on to find out why Teen Spirit is at the top of our to-watch list this spring.
1. Teen Spirit Features Elle Fanning's First Singing Role
As a contestant in the singing competition Teen Spirit, Fanning's Violet performs songs we know and love by modern pop icons — and the talented Fanning is actually the one singing them. Going a step further than many actual pop stars, Fanning didn't use any AutoTune to tweak her sound. What you'll see in Teen Spirit is her raw talent.
2. Fanning's singing isn't just real—it's good
If you've seen the trailer, you know what we're talking about. It's hard to believe you're not listening to a Top 40 singer belting out these hits. At the same time, her style is unadorned, stripped down without too many acrobatics distracting from the quality of her voice. She was already one of our favorite actors, but Fanning just might make the list of your favorite pop singers, too.
3. Teen Spirit Is A New Kind Of Coming-Of-Age Story, With Classic Roots
Watching the film, you find yourself on Violet's side, while also seeing her flaws. As her integrity and grit are questioned, she's forced to grow up and reckon with her life and ambition in a new way. At the same time, it also evokes the simplicity of classic fairy tales. Small town girl works hard to transcend her surroundings and escape a troubled family life? Sounds like Cinderella to us.
4. The Soundtrack Is Incredible
Without giving anything away, if you're a pop music fan, you're going to love what you hear in Teen Spirit. In addition to the hits Fanning sings, the soundtrack features songs from artists you know and love from today and the '90s. You're guaranteed to leave with at least one song stuck in your head!
5. Violet's wardrobe is a glamorous dream.
From neon pink fur to glittery fabrics and bold colors, Violet's budding pop star wardrobe is the stuff of our disco-inspired dreams. Summer outfit inspo? Yes, please.
6. Teen Spirit is Max Minghella's directorial debut.
We've loved Minghella as an actor in film and TV. Now, he's following in the footsteps of his late father and expanding his own skills into directing. Sign us up!
This article is sponsored by Teen Spirit, in theaters everywhere April 12th.