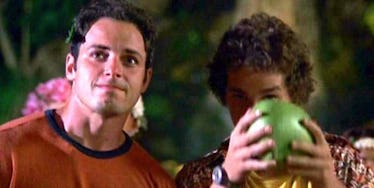 This Is What Donnie From 'Even Stevens' Looks Like Now
Disney–ABC Domestic Television
I'm not quite sure what my life would be like if I didn't grow up with Disney Channel.
From "Lizzie McGuire" to "That's So Raven," it was home to some of the greatest TV shows ever created.
It had the best animated shows, too, like "Kim Possible" and "The Proud Family." It also had Disney Channel Original Movies with BOMB-ASS soundtracks. I'd listen to those tunes on my CD player all night long.
Those were the days.
One of my all-time favorite Disney Channel shows was "Even Stevens." Shia LaBeouf was the funniest kid, and watching him tackle family problems and deal with Beans made the show absolutely hysterical.
I wonder what the heck the cast is up to now.
I know Shia is doing lots of performance art in movie theaters and elevators, and I know Beans was seen working at a Santa booth at a mall.
But, where the heck is Ren? And what about big brother Donnie?
OH, YOU REMEMBER DONNIE: the hot, athletic, dumb brother. https://www.youtube.com/watch?v=Wiu7B0mxUp8
Well, SURPRISE. Here's what Donnie looks like now. AND HE HAS A DOG.
Look at how much he's grown up over the years. Donnie is a man...
With abs...
...who shows off those abs and likes to iron in his undies.
The actor who played Donnie is named Nick Spano, and you can follow him on Instagram now. YOU'RE WELCOME.
Long live Disney Channel. Long live Donnie.