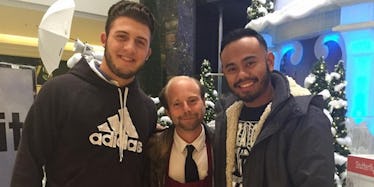 Beans From 'Even Stevens' Is A Local Hero Working At A Mall Santa Booth
Steven Anthony Lawrence has had quite the life.
At just 25 years old, Lawrence has starred in one of the most beloved shows in Disney history, hung out with Shia LaBeouf and has now apparently begun working with Santa.
Lawrence, better known as Beans from the early 2000's show "Even Stevens," has moved on from his days as a child star. The actor is now working as one of Santa's helpers at Sunvalley Shopping Center in Concord, California.
And don't think, even for a single second, Lawrence is ashamed of his new gig. In fact, he seems to be relishing all the attention he's receiving at the mall.
Fans and well-wishers have flooded social media with photos of the star, who appears to be more than happy to snap a selfie or two.
In February, Lawrence told The Huffington Post, he's always surprised when people recognize him, adding,
I feel like I've changed so much when I look in the mirror, but I'll be walking down the street and people drive by for two seconds and automatically they'll go, 'Oh, my God! You're Beans! Ahhh!' God, even I would have to at least do a double-take.
And to put another twist on this story, Lawrence is also preparing for his next role as Jingles in the 2017 film, "Holly, Jingles, and Clyde," a 3D movie about "two bumbling elves."
Maybe he's method acting in preparation?
Citations: Beans from 'Even Stevens' is working at the Santa booth at Sunvalley Mall (SF Gate)