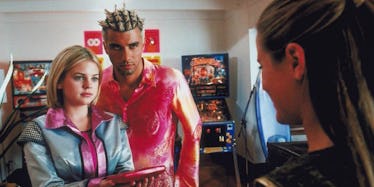 Zetus Lapetus: This Is What Proto Zoa From 'Zenon' Looks Like Now
Disney-ABC Domestic Television
The year is 2049, and you're just a regular teenage girl living her space-station life.
Your best friend's name is Nebula, and half the words you use start with the letter Z because that's obviously the most futuristic letter of the alphabet.
Of course, I am describing possibly the greatest Disney Channel Original Movie of all time, "Zenon: Girl of the 21st Century."
Oh man, there are so many great things about this movie. Where do I even start?
It had everything: baby Raven-Symoné before she got problematic, the best future slang of any future movie and, of course, that "zoom zoom zoom" song by futuristic heartthrob Proto Zoa that still gets stuck in my head.
OK, but remember Proto Zoa, you guys?
THOSE FROSTED TIPS.
Remember how he totally asked Zenon to be his supernova girl?
Well, it's been 17 years since the first "Zenon," but Proto Zoa is still a hottie major.
His name is Phillip Rhys, and he still acts, mostly doing guest roles on a number of TV shows. He's also on Twitter.
He really rocks the whole not-having-frosted-tips look nowadays.
I love the '90s as much as any other 20-something who actually grew up in the 2000s, but frosted tips are just... no.
I'd let him zetus my lapetus any day.
Plus, I bet Rhys would totally sing "Supernova Girl" at a party if you asked.
Zoom zoom zoom, Phillip. Zoom zoom zoom, indeed.