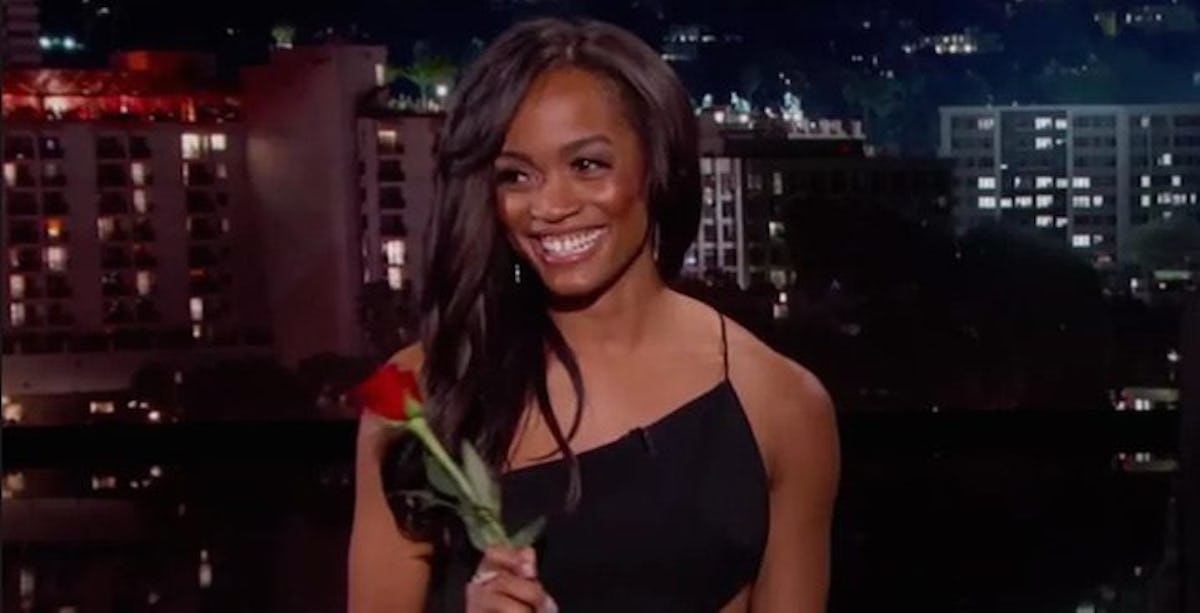 Chris Harrison Tweeted A Major Hint About Rachel's Men On 'The Bachelorette'
ABC
I'm low-key OBSESSED with Rachel Lindsay.
She's smart, pretty, funny and ambitious, and like I've said before, Nick Viall was a complete IDIOT for sending her home on "The Bachelor."
Now, the guy just looks miserable, and TBH, it's pretty clear he should be kicking himself for letting one hell of a woman go.
But I was super thrilled to find out Rachel would be the next "Bachelorette." SHE DESERVES THE BEST, and I'm not complaining about a whole SEASON of her.
But I have to say, I'm a little worried.
First, we witnessed that totally cringeworthy moment when Rachel was forced to meet four of her suitors on "After The Final Rose."
THEN, we witnessed a little bit of one of her group dates on "The Ellen DeGeneres" show, and things got awkward.
AND NOW, we have this super sketchy tweet from Chris Harrison, which makes me wonder if Rachel's finding love after all:
But here's some backstory on this: Basically, a user named rebmcdougall tweeted at Chris and asked him if Rachel would be willing to accept more suitors because she had the "perfect guy" in mind.
And since the SHOW HAS ALREADY STARTED FILMING, you would think the normal response would be, "Thanks girl, but we're all filled!"
UM. NO.
Instead, Chris responded that he was with Rachel, and she wanted more options. Which means, CLEARLY, these current guys just aren't cutting it.
Also, please note this show has been shooting since mid-March. Aka, it's been almost a MONTH.
And if Rachel hasn't found anyone she thinks she could spend her life with in a MONTH, these are serious times indeed.
Is she just going to throw out a bunch of guys to make room for new contestants? Is she going to screw the whole thing and start the season afresh? Is she *GASP* going to give up?
IS THIS JUST A JOKE?
LISTEN, I have NO IDEA what insane games Chris Harrison is trying to pull here. But let me make one thing clear: I don't care how many new contestants show up. I just want Rachel to find her forever.
Because TBH, Nick Viall was crap anyway.
Citations: Chris Harrison Tweets About 'The Bachelorette' (Bustle)