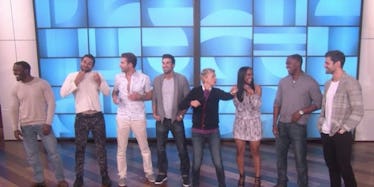 New 'Bachelorette' Contestants Go Shirtless On Group Date In Hilarious Video
YouTube
The next season of "The Bachelorette" doesn't premiere on ABC until Monday, May 22, but that didn't stop Rachel Lindsay from going on her first group date this week.
The 31-year-old former "Bachelor" contestant is an attorney from Dallas, Texas, and, thanks to Ellen DeGeneres (obviously), she just got very well acquainted with six of the contestants who will be vying for her love on this season of "The Bachelorette."
This week on "The Ellen DeGeneres Show," Lindsay appeared with six potential suitors. For their first unofficial group date, "The Bachelorette" watched her men dance shirtless in order to get money from the audience!
Check it out!
Speaking about what it's like having a few dozen guys compete for her love, Lindsay said,
I am not good with names at all, but I'm trying to make an effort. I appreciate that these guys are here for me and I'm grateful, so I say their names three times in my head over, and over, and over again before I meet them.
I think I can! I think I can! I think I can!
Apparently, Rachel Lindsay has already received her first kiss from a potential husband, and she dished on how amazing it was! The 31-year-old said,
I know it sounds cliché, but it totally swept me off my feet. And it was good. It was good.
Lindsay continued,
I mean, for me, it's not secret I'm super skeptical. But I will honestly say that I am so hopeful. I have an amazing group of men and I see a lot of potential and I am really, really excited to see where this goes. I feel good.
You got this, girl!
So, who were the six dudes who went shirtless on the group date? Well, these guys' names are John, Brian, Alex, Fred, Peter and Willie G.
As the contestants started dancing shirtless, Rachel Lindsay said,
Personalities coming out.
Oh, yes, my dear!
Will and Alex took home the most cash from their, uh, performance, but we'll have to wait and see how far that takes them when "The Bachelorette" premieres in May.
Citations: The Bachelorette Rachel Lindsay Takes 6 Suitors on a (Shirtless, Wet) Group Date With Ellen DeGeneres, Naturally (E! News)