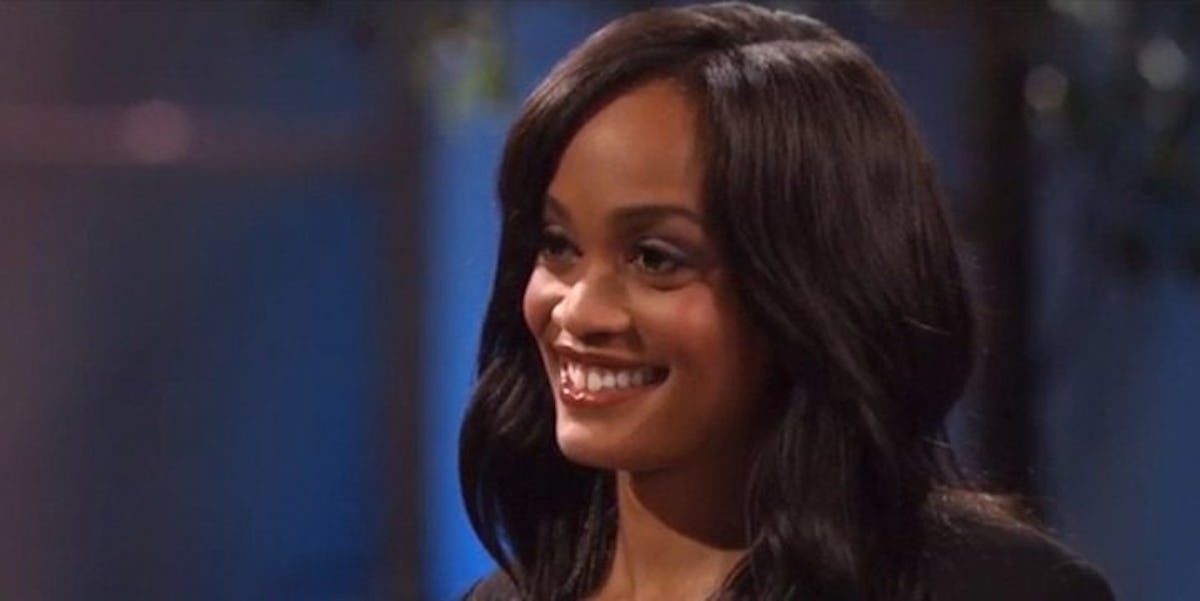 Bachelor Nation Cringed Watching 'Bachelorette' Rachel Meet 4 Of Her Suitors
ABC
Warning: This article contains spoilers for the season finale of "The Bachelor." (But honestly, you probably should have known that already.)
Everyone is more than ready to be over and done with this season of "The Bachelor" and move on to "The Bachelorette" — even ABC.
On the finale special "After the Final Rose" — after Nick Viall proposed to Vanessa Grimaldi surprising literally no one — host Chris Harrison did manage to have one trick up his sleeve.
Harrison revealed the new season of "The Bachelorette" would be begin right then and there on that stage, much to "Bachelorette" Rachel Lindsay's surprise.
Harrison announced, as several men took the stage,
What you don't know is that 'The Bachelorette' starts right now. We couldn't take you to the mansion, so I brought the mansion to you. You're about to meet a few of the guys that will be vying your heart.
Then Rachel had to stand there, totally unprepared, while four of this year's "Bachelorette" contestants introduced themselves in increasingly awkward ways.
One guy came with plane tickets to Vegas, ready to elope that very second.
Because eloping in Vegas is the wedding every little girl dreams of, I guess?
Another guy basically forced Rachel to let him kiss her hand, despite clear resistance from her.
And he did not hesitate to press her against his body for a photo op.
Rachel, unsurprisingly, looked incredibly uncomfortable throughout all of this.
And Bachelor Nation was not impressed with ABC's obvious distraction methods.
But most of all, everyone hated the white guy who was a little too enthusiastic about "going black."
Yep, in case you missed it, one of the suitors, who was white, literally said the following to the first-ever black lead in "Bachelor" franchise history:
I'm ready to go black and never go back.
With those choices, it's no surprise Rachel said she didn't feel like she'd met "the one" yet.
She said, laughing,
I don't want to jump the gun.
No Rachel, you really don't. Please hold out for someone at least kind of OK.
Citations: A Bachelor Nation First! New Bachelorette Rachel Lindsay Meets a Few of Her Suitors on After the Final Rose (People)