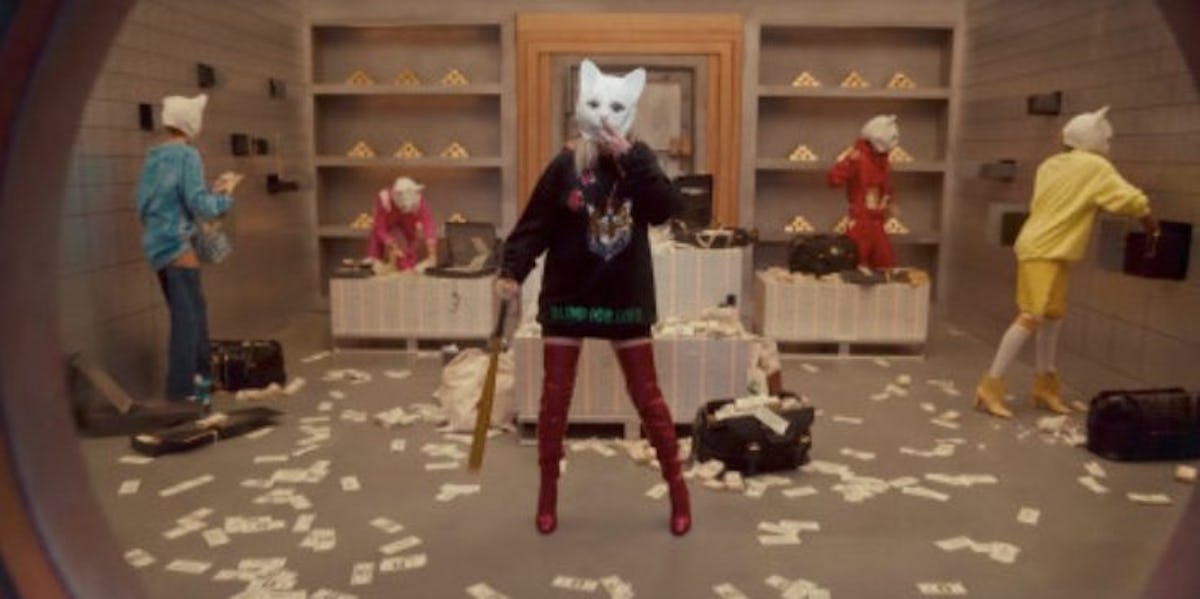 Taylor Swift's One Regret About The "LWYMMD" Music Video Is Actually Pretty Funny
YouTube
Taylor Swift released her music video for "Look What You Made Me Do" on Sunday, Aug. 28, during the 2017 VMAs and I am still shooketh. Now that all the shade has been properly thrown, Taylor is back to being her old self. While she hasn't returned to social media in full force, she is making jokes. Ooooo. In a recent behind-the-scenes video, Swifty revealed one more reference she wished she added to "LWYMMD." Taylor Swift's cat mask in "LWYMMD" could've resembled Meredith and Olivia a bit more.
Meredith and Olivia are Taylor Swift's cats. Taylor Swift's cats are named after Meredith Grey from Grey's Anatomy and Olivia Benson from Law & Order: SVU — aka the best shows of all time. Yas. Purely based on TV shows, Swift and I would get along just fine. Taylor, do you like Scandal? LMK. Her cat Olivia has really cute folded-down ears, and Swift thought it would've been an amazing nod to her pet if the ears of the cat mask during the robbery scene were stapled down.
In the video, Swift has a moment of clarity while holding a mask,
Obviously, like, if it was Olivia though, she'd be like... this would be all here. Which we really should've thought of. We really, really should've stapled their ears. Why? God, you get the best ideas after it's too late!
I feel you, Tay. I almost think the scene would be way too adorable if the masks resembled her beloved Scottish Fold cat, Olivia.
You could tell in the video above, as soon as Swift said "kitten masks" the wheels starting turning. I could go on forever about how cats are the best (I think Swift would agree), but the scene in music video actually sends a very strong message. Swift added,
The absolute idiocy of this scene is that we're, like, robbing a streaming company as if they have a vault of cash and all the girls are shoving money into their really well-coordinated, primary color, awesome Gucci outfits wearing ridiculous kitten masks.
The music video portrays Swift and a gang of bandit-kitties robbing the giant safe of "Stream Co.," the not-so-subtle way to throw shade at the streaming services Swift went head-to-head with. The Verge reported in 2014 Swift penned an essay for The Wall Street Journal where she declared "valuable things should be paid for" in response to free streaming services.
Then, in October 2014, Swift's 1989 album was oddly missing from Spotify when it was released. She explained the decision by saying,
[A]ll I can say is that music is changing so quickly, and the landscape of the music industry itself is changing so quickly, that everything new, like Spotify, all feels to me a bit like a grand experiment. And I'm not willing to contribute my life's work to an experiment that I don't feel fairly compensates the writers, producers, artists, and creators of this music. And I just don't agree with perpetuating the perception that music has no value and should be free... I thought, 'I will try this; I'll see how it feels.' It didn't feel right to me.
In June 2015, Swift went after Apple Music's free trial calling it "disappointing." Apple made a few changes, including agreeing to pay royalties to everyone during the free trial, and 1989 did end up streaming on the service.
During an interview with Vanity Fair about the incident, Swift didn't mind dragging Spotify a little more through the mud.
Apple treated me like I was a voice of a creative community that they actually cared about. And I found it really ironic that the multi-billion-dollar company reacted to criticism with humility, and the start-up with no cash flow reacted to criticism like a corporate machine.
Ouch. Today, you can find all of Swift's music back on Spotify. It was not disclosed if Swift, Big Machine Records, or its parent company, Universal Music Group, won anything from the ordeal. Swift wasn't just taking a stand against Spotify, but the entire industry and the changing landscape of how fans expect to access music. Either way, I'm glad to have her back on my Spotify playlist. Now, back to looking at pictures of Meredith and Olivia.
Check out the entire Gen Why series and other videos on Facebook and the Bustle app across Apple TV, Roku, and Amazon Fire TV.