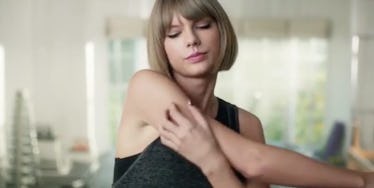 Taylor Swift Wipes Out While Singing On A Treadmill In An Apple Music Ad
Instagram
Taylor Swift eating treadmill in this Apple Music commercial is all you need to make it through this Friday.
Let's cut back to a few months ago when Apple Music and Taylor weren't on great terms. The 26-year-old pop icon had boycotted the tech giant after it decided to not pay out royalties to artists during the company's three-month free trial period, penning an open letter titled To Apple, Love Taylor that ended by simply stating,
We don't ask you for free iPhones. Please don't ask us to provide you with our music for no compensation.
Apple, knowing that hell hath no fury like a Swifite scorned, wisely decided to change its policy and now the two of them are seemingly on great terms.
SUCH good terms, in fact, she's now even doing commercials for the company.
Taylor Swift pratfalling on a treadmill while trying to run-sing to "Jumpman" is advertisement gold.
I just want to say, it's no surprise she is miserable at running on the treadmill. I love her to death but that girl is uncoordinated AF.