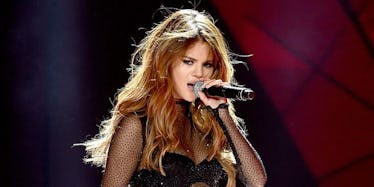 Friendly Reminder These 7 Singers Actually Started Their Careers By Acting
Getty Images
In the world of Hollywood, it's no surprise to see someone switch careers. Some of these switches turned into big flops — I won't mention names (I think they know who they are), but other people fell into what they were meant to do.
These artists have had some of the biggest hits in recent years, but you may be surprised to remember the shows they started on.
1. Drake
Before Drake released bangers like Hotline Bling, he was on a Canadian teen show called Degrassi: The Next Generation. He played Jimmy Brooks, a star athlete who was suddenly paralyzed during a school shooting. So tragic.
Luckily, he became Drake, got super famous, and even maybe dated Rihanna. Not bad, Jimbo!
2. Demi Lovato
Demi Lovato is a force to be reckon with in the music industry. Girl has a pair of pipes. However, before she was Cool For The Summer, she played the lead in Disney Channel's Sonny With A Chance. She was Sonny Munroe, a cute Midwestern girl who moved to Los Angeles to be an actress. The show only ran for two seasons.
However, it was her role in Camp Rock that propelled her into music stardom.
3. Miley Cyrus
Miley Cyrus has reinvented her look tons of times. She went from Party in the USA to Wrecking Ball to Malibu and everywhere in-between during her career. However, let us not forget, before that she was Hannah Montana.
Reportedly, the 11-year-old Cyrus auditioned for the best friend role before getting cast as the lead. Could you image Miley Cyrus as Lilly Truscott?
4. Britney Spears
It's Britney, b*tch. Britney Spears is, like, the pop star of the 2000s. If you think I'm going to mention her movie Crossroads, you bet I am. This movie had it all — baby mama drama, singing on road trips, and dress up montages. However, she was already a famous singer, so it doesn't really count.
Dating back even further, Spears was a Mouseketeer. Justin Timberlake, Ryan Gosling, and Christina Aguilera are also included in this famous group.
5. Selena Gomez
Selena Gomez may have everyone losing their minds over her upcoming song "Fetish," but before that she was a star of the small screen. Gomez got her start on Disney Channel, starring in Wizards of Waverly Place. She played the spunky Alex Russo who was a teen, but also a wizard.
6. Ariana Grande
After starring in Nickelodeon's Sam and Cat, Ariana Grande became one of the most influential pop stars in the world. Her signature high ponytail and amazing voice have us forgetting she was a tween actress.
7. Jennifer Lopez
Jennifer Lopez has been making music for what seems like forever. Before she was bumping Jenny From the Block, she actually played pop star Selena in 1997. Although it was a music centered role, let's not forget other classics like Maid in Manhattan.
Personally, I'm glad these former actors found music. My Spotify playlist would be very sad without them.