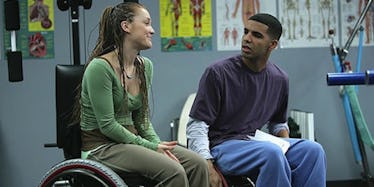 6 Times 'Degrassi: The Next Generation' Was Our Guide To Life
Entertainment One
I'll never forget the first time I entered the halls of Degrassi Community School.
It was like nothing I had ever seen before.
Everything was bright, new and questionable. The students appeared both confident and afraid, suave and homely.
"Degrassi," which for the Millennial generation was rebranded as "Degrassi: The Next Generation," introduced viewers to a new batch of students at the infamous Canadian school.
The main protagonist, Emma, was the daughter of alum from the original "Degrassi" series.
There was a mix of the original cast members, and a fresh crop of unknowns entering our homes each week.
I grew up with "Degrassi." It was the "must watch" show before there was truly any reality television.
What made "Degrassi" truly great, was that it dealt with real issues teens faced in a positive but grounded manner.
It wasn't made to feel like an after-school special, but more like its predecessor, as well as "Beverly Hills, 90210."
In honor of the new season of "Degrassi: Next Class" coming to Netflix, let's look at the craziest moments of "Degrassi" that helped define a generation.
1.  When Rick sent Terri into a coma.
One of the earliest displays of realism came when the show tackled abusive relationships.
We witnessed Rick repeatedly yell at Terri in private and in front of people.
He was volatile, and when Terri didn't want to be with Rick anymore, he followed her into the park and shoved her so hard she fell and cracked her skull on a rock.
This sent her into a coma that she would eventually come out of, but the damage was done.
Rick could not go back to Degrassi (until a few seasons later), and Terri's life was changed forever.
This blatant display of physical abuse brought up a conversation about domestic violence, and helped teach teens that no one should ever make you feel unsafe, or put their hands on you.
2.  When Manny got an abortion.
Manny went through a period where she wanted people to notice her, but often for the wrong reasons.
Her scandalous hook up with Craig (who was also suffering from bi-polar disorder) led to a night of unprotected sex that led to Manny's pregnancy.
The episode with Manny's abortion didn't air in America right away, as the Parents Television Council deemed the episode too scandalous and not appropriate for teenagers.
However, the fact that "Degrassi" was willing to discuss the real consequences of unprotected sexual encounters, as well as the real effects of having an abortion was groundbreaking at the time.
Once again, the Canadian teen drama truly lived up to their genre.
3.  When Rick shot up the school.
One of the most profound and chilling episodes of "Degrassi" was when Rick, after being humiliated by Spinner and the gang, unloads bullets on his classmates, ultimately paralyzing basketball star Jimmy Brooks, aka future Drake.
Rick is eventually killed after wrestling for the gun.
This episode came five years after the Columbine shooting, and addressed school shootings not with kid gloves, but with very real consequences.
Rick, who had been bullied since his return to school, had finally reached his breaking point.
Even his friend Toby could not talk him out of making this life changing decision.
The following episodes of the season and series dealt with the fall out of the shooting.
Relationships changed, individuals suffered from PTSD and changes were made to prevent future incidents from occurring.
4. When Paige was raped.
Paige, the HBIC at Degrassi Community School, decided she wanted to move on from high school boys, and hit up a college party with her friends in town.
What we see next is a very realistic account of what happens on a lot of college campuses: sexual assault.
After Paige was raped, she never received justice for the crime committed against her.
Often, victims are blamed in court and made to feel shamed, embarrassed and like it's their fault.
Paige's life spiraled out of control because of that one night, and it was a pivotal moment in the season.
5.  When Jimmy was paralyzed.
Jimmy Brooks, the victim of the school shooting at the hands of Rick, was permanently paralyzed from the waste down.
In the later seasons, as he and Ashley prepared to get physical, he couldn't perform.
Of course, not every male suffers from erectile dysfunction, but it made the conversation more open and that this was a very real problem young men can face, whether they were like Jimmy or not.
6. When Marco came out.
Marco, one of the most likable and well received characters, was very confused about his sexuality.
His relationship with Ellie was a front for his closeted status, and he realized he wasn't being true to himself.
While most of the friends he came out to understood and accepted him, he had the hardest time with Spinner.
Spinner didn't understand and didn't want to.
Their friendship was strained for a while as both adjusted to the news.
Marcos family was also not understanding at first, but his journey of acceptance was very real and gave us all the feels.
Whatever it took, the students of "Degrassi" made it through.