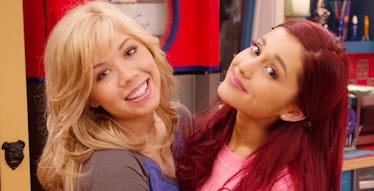 Here's What The Cast Of 'Sam & Cat' Looks Like Today
Nickelodeon
Before Ariana Grande became... well, Ariana Grande, she was on a Nickelodeon show called Sam and Cat.
She co-starred with Jennette McCurdy as two BFFs who lived together and started a business. Although the show was seemingly a huge hit, it was canceled in 2014 after just one season, according to Hollywood Life.
The banter on the show between Grande and McCurdy was so cute. Besides having great chemistry on-screen, these two also share a birthday. After three years, I had to find out if Sam and Cat were still friends and doing the toothbrush dance IRL.
Before getting into the friendship, let's first bask in their individual glow ups.
Cat (Ariana Grande)
What Ariana Grande Looks Like Today
Yas, Ari, slay! After Sam and Cat, Grande blew up to be like, a really big deal. Some would say she's... extra Grande. Are you laughing as hard as I am? Please send help.
Anyway, she's huge in the pop music world, incredibly gorgeous, and has an adorable relationship with her boyfriend, Mac Miller.
Sam (Jennette McCurdy)
What Jennette McCurdy Looks Like Today
McCurdy isn't doing too bad herself. According to her website, she stays very busy writing and directing short films. She even started a blog series called "Going Mental" where she explores her interest in mental health while connecting with others around the world.
Glad to see these two are doing well, but are they still friends? The answer is, sort of. Rumors swirled that the reason the show was canceled was because of a feud between Grande and McCurdy. Seventeen reported that the real reason was a bit more than the two disliking each other. It seems that the cancellation came after a mixture of pay disputes and personal struggles.
However, McCurdy told E! at the time,
Some like drama and I think we butted heads at times, but in a very sisterly way. She knows me so well and I know her so well that I think it was unfortunate that things kind of got misconstrued.
Then, in 2015, during an interview with The Insider, McCurdy didn't acknowledge any feud. In fact, quite the opposite.
We probably text like once a week to kind of catch up and see what's going on.
This seems promising! She even Snapchatted herself rocking out to Ariana Grande's music last year.
Although we don't see these two out together much, it seems like they're on good terms. Glad both these ladies are doing great after their Nickelodeon days.
So what are the other cast members up to now? You may be surprised!
Dice (Cameron Ocasio)
What Cameron Ocasio Looks Like Today
According to his IMDb page, Ocasio is still acting and has been featured in some short projects.
Goomer (Zoran Korach)
What Zoran Korach Looks Like Today
After playing Goomer, you would think Korach would stay with comedic roles. Actually the opposite. He's best known for his roles in Shameless and True Blood, according to his IMDb.
Chloe (Emily Skinner)
Here's What Emily Skinner Looks Like Today
Skinner is still acting. She actually landed a role on Disney's Andi Mack, according to her Instagram.
Although we all miss Sam and Cat, I can't wait to see what comes from these talented actors.