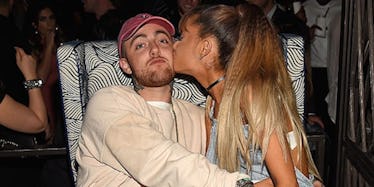 Mac Miller Posts Sweet Pic For Ariana Grande's Birthday:"Thank You For Loving Me"
Kevin Mazur/Getty Images
The love between Ariana Grande and Mac Miller is so pure, you guys. I can't handle it, and I don't want to. I feel like the right thing to do is here to always gush over them, I don't know. That could just be me.
Today is Ariana Grande's 24th birthday, so in honor of it, Miller posted a cute couple pic of them on Instagram along with a sweet message in honor of the singer with a range that makes me feel worthless for not also having it.
In the post, he said,
Happy Birthday to this adorable pure soul who has reminded me what being happy feels like. Thank you for loving me so good. I think it's supposed to be "so well" but I don't care. I love you and can't wait for all of the adventures.
"Adorable pure soul." SEE?! EVEN MAC MILLER KNOWS HOW PURE THEY ARE! HE ADDRESSED IT!
Grande commented on the post with a bunch of exclamation points, and then followed up with a simple "I love you." And I'm done!
I don't know why these two make so much sense together, but they just do. When you know, you know, I guess? Can people have soulmates who are actually just celebrity couples? Because if so, these two are mine for sure. HUNDO P.
Grande also posted a picture of her and Miller FaceTiming on her Instagram story last night. In the picture, you can see Miller holding up a handmade sign that says "happy birthday" on it. Apparently, the couple isn't physically together right now.
She captioned the pic "loml," aka "love of my life," so now I'm throwing up. Are Ariana Grande and Mac Miller engaged or not?!?!?!
You can only see their eyes in the picture, but they're f*cking beaming with the most majestic light of the sun, or whatever it is your eyes beam with when you're looking at the person you're in love with.
I wouldn't know, I've been single for, like, almost a decade now. Hit me up, boys, hahahaha! Just kidding, don't. I have patience for literally no one.
AND THAT MEANS YOU.
Now, if you'll excuse me, I'm gonna go walk my poodle and think about my celebrity couple soulmates, Ari and Mac.