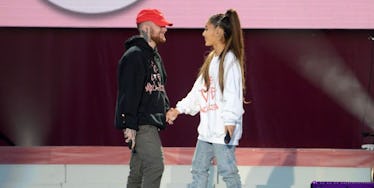 6 Times Ariana Grande And Mac Miller Proved They're The Cutest Couple Ever
Getty Images/Handout
Remember a couple of years ago when Ariana Grande released her single "The Way" featuring Mac Miller, then the music video showed them making out at the end and everyone was like, whatttttttt???
Yeah. Ever since then, I've been hardcore shipping these two... patiently waiting for the day they finally started dating. When they went official, I low-key (read: high-key) sobbed.
I'm the first person to admit this relationship came out of nowhere, but godd*mmit, I am so f*cking happy it's a thing. They work. They just do. I can't explain it! I literally love this couple.
If you don't think they make sense together, correct yourself by watching this behind-the-scenes video from their "The Way" music video. Their chemistry is literally so off the charts, it makes me blush just watching it.
My god.
And now, thanks to a huge rock Ari was sporting on that finger at the One Love Manchester concert on Sunday, June 4, people think Ariana Grande and Mac Miller are engaged. Engaged!
If this is true, sweet Jesus, take the wheel. Take it from my hands.
So, in honor of the potentially engaged couple, let's take a look back at all the times they proved they were the best celebrity couple in the game right now.
Their Performances Together Are Literally More Romantic Than Any Date I've Ever Been On
The lovebirds took to the One Love Manchester stage to perform "The Way" and Mac's single "Dang!" Both of these songs will be eternal jams.
In the video, the pair is seen dancing around and laughing together, just genuinely enjoying the other's presence, and appreciating the fact they can share what they love to do with each other.
GOD, WILL I EVER FIND LOVE LIKE THIS?! PROBABLY NOT. I'M NOT PURE ENOUGH.
Every Song They Make Is A Jam That I Play On Repeat For, Like, Years
While promoting his album The Divine Feminine, Miller and Grande performed together again with their duet "My Favorite Part."
It's a song about how obsessed they are with each other and I can't deal. And when they performed it together, they literally couldn't take their eyes off each other.
If they ever had babies, those babies would come out of the womb belting a high C powerful enough to make Mariah Carey remember who J. Lo is.
Their Chemistry Is More Powerful Than The Light From The Sun, And That Is Science
It doesn't take a genius to see that Grande and Miller adore each other.
Their faces literally light up every time they're around each other, and that's how they've been ever since they released their first duet — a cover of "Baby It's Cold Outside" — back in 2012.
YEAH. 2012. WAY BACK WHEN.
He's Her Rock
When Grande returned to her hometown of Boca Raton, Florida, following the Manchester attack on May 22, Miller met her and her mother on the tarmac when her plane landed.
A source told E! News,
When Ariana got off the plane, Mac greeted her on the tarmac with a long hug followed by a kiss. Mac also gave Ariana's mom a hug. It was a very emotional reunion and they stood talking for a minute before getting into the car.
In photos of them being reunited, you can tell just how much they love and support each other, even in the darkest of times.
And then, at the One Love Manchester concert, that love came through once again when Miller supported her through their performances. When all of the performers came out at the end and stood behind Grande while she sang "One Last Time," Miller's eyes were locked on her the entire time. I sobbed.
Their Relationship Has Been A Long Time Coming
Grande and Miller first met through a Twitter conversation back in 2012 that resulted in their cover of "Baby It's Cold Outside." Yup, Mac Miller literally slid into Ariana Grande's DMs.
Shortly after that first duet, "The Way" was released. And the rest is history.
Grande spoke with Cosmopolitan back in March when she was on the cover of the April issue. In the interview, she talked about her relationship with Mac and how they just naturally fit together.
She said,
I met him when I was 19. We have loved and adored and respected each other since the beginning, since before we even met, just because we were fans of each other's talent. We weren't ready at all, though, to be together. It's just timing.
Back in 2016, Miller told People that "My Favorite Part" made them close friends again. He said,
I wrote that love song before I saw her. We're very good friends first and foremost. We made that song and started becoming close again. It's very dope and I like how that worked out.
He also said working with her again felt natural. He told People,
It was great. There was no awkwardness or weirdness, it was how it always was. Just both of us older, more mature and more sure of ourselves. When we first recorded together we were young and figuring it out, which we still are, but now seeing her growth and my growth – it's great.
UGH, CAN YOU FEEL THE MUTUAL LOVE AND RESPECT? CAUSE I CAN.
IDK, They Just Make Sense?
These two just fit together. And all of their performances, songs, and Instas prove it.
Their relationship is rooted in a deep, mutual respect for each other and their work, and that's literally the healthiest relationship I can think of. They're both complete people, and they just complement each other.
I'm not sobbing, you're sobbing.
ARIANA GRANDE AND MAC MILLER 4 EVER!