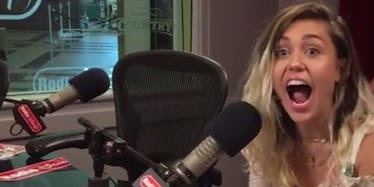 Miley Cyrus Watching Her 'Hannah Montana' Audition Tape Will Give You The Feels
Radio Disney
Miley Cyrus has gone through quite a lot of transformations for only being 24 years old.
There's been "Hannah Montana" Miley, "Last Song" Miley -- the movie where she met fiancé Liam Hemsworth -- "Wrecking Ball" Miley and now there's "Malibu" Miley.
"Malibu" is the first single off Miley's still untitled upcoming album, and it shows a very different side to the singer who twerked her way through much of the last few years.
On Thursday, the pop star visited Radio Disney and took a major trip down memory lane when producers surprised her with her audition tape for "Hannah Montana."
Listening to 12-year-old Miley belt out lyrics will make you seriously nostalgic for your own Disney days.
Miley lights up watching her younger self perform, noting her t-shirt at the audition reads "I should have my own TV show." She even sings along with her younger self.
"Always a little controversial, from the beginning," she exclaims at one point.
The best part of the tape, though, comes at the end when producers ask her if she is signed to a label and she emphatically replies,
No... It's going to happen.
In fact, Miley liked that line so much she replayed it.
She certainly wasn't lacking confidence at the age of 12, and producers definitely knew talent when they saw it. The rest is history.
It seems like Miley is really taming her rebellious side these days and has even given up smoking weed and drinking. She recently told Billboard,
I like to surround myself with people that make me want to get better, more evolved, open, and I was noticing, it's not the people that are stoned. I want to be super clear and sharp, because I know exactly where I want to be.
It definitely sounds like the singer has matured and is happy where she is right now.
Now excuse me while I go listen to "Best of Both Worlds" on replay.
Citations: Watch Miley Cyrus Revisit Her 'Hannah Montana' Audition Tape at Radio Disney (Billboard)