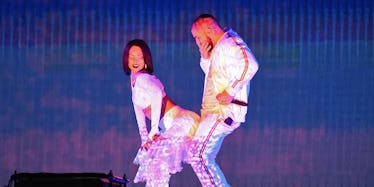 Drake And Rihanna Kissed On Stage And The Video Will Make You Feel Things
REX/Shutterstock
I have to say, Drake and Rihanna are basically the Ross and Rachel of the music industry.
Finally, as if it were the season finale we were all waiting for, Drake planted a quick -- but real -- kiss on Rihanna at his second show in Miami on his Sweet Sixteen tour.
The "One Dance" singer surprised his fans by bringing RiRi out. Of course, they flipped.
Right after her performance, she walked over to Drake and the two shared a kiss and hug before she left.
Now we can finally say with full confidence that Drake and Rihanna are dating. No more guessing or wishing. Our celebrity relationship dreams have come true.
We can't pretend we didn't know it was going to happen eventually. Drake did get Rihanna a freaking billboard to congratulate her on her VMAs win. How can you say no to that?
So far their track record hasn't been too hot when it comes to public smooching. When Drake went to kiss her at the VMAs front and center, a lot of people thought she just awkwardly gave him her cheek.
But they seem to be really happy (especially Drizzy) and that's all that matters. The fact that their long on-and-off history is finally coming to this makes me feel actual feelings.
They were also seen getting cozy in a Miami club on Tuesday.
I mean, look at them!
My hope for these two is that they have substantially less drama than Ross and Rachel had on "Friends" and that they have beautiful, talented babies together.
Citations: Rihanna and Drake confirm their romance as they finally kiss on stage during Miami gig...after that awkward peck at the VMAs (Daily Mail)