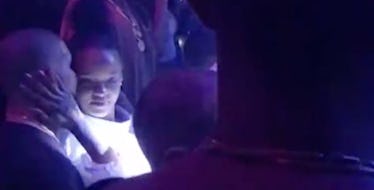 Drake And Rihanna Packed On The PDA At A Miami Nightclub And There's A Video
TMZ
Drake and Rihanna are having quite the week.
On Sunday, their relationship hit new heights when Drizzy publically confessed his love for RiRi at the VMAs.
The whole world watched them flirt on stage and we even got a peek at some footage of them making out.
Yup, Drake and Rihanna are totally in love and I'm just dying alone. Hahaha. That's life, right?
If you're obsessed with this celebrity couple just as much as I am, you'll definitely want to watch this video packed with PDA.
The lovebirds hit up a Miami nightclub on Tuesday night and were touching the entire time. At one point, Rihanna took her hand and put it on Drake's cheek. It's honestly the most sensual thing I've ever seen.
AHHHHHHHHHHHHH. THAT IS SOME X-RATED SHIT RIGHT THERE.
The clip is only 37 seconds long but a lot goes down. Rihanna can't stop touching Drake's face and it's so romantic. THEY LOVE EACH OTHER SO MUCH!
Be sure to watch the full video above to witness the magic. YOU TWO BETTER GET MARRIED AND INVITE ME TO THE WEDDING... OR ELSE!
Citations: Drake Rihanna PDA (TMZ)