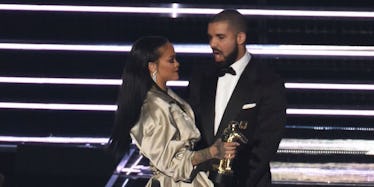 Rihanna Gives Drake An Intimate Kiss At The VMAs In Behind-The-Scenes Video
REX/Shutterstock
Drake and Rihanna are totally in love, and everyone needs to know it.
At the MTV VMAs, the rapper decided to publicly confess his love for the ANTI singer.
The two have been officially dating for almost two months now, so it's about damn time we saw some PDA.
The Video Music Awards was also Rihanna and Drake's first big appearance as a couple together, so obviously things got juicy.
Rihanna was the recipient of the Michael Jackson Video Vanguard Award, so she was the star of the night. She killed it with a couple of crazy performances, and her bae even presented her with the award.
AWW, SOMEONE GET ME SOME TISSUES, DAMMIT. This cute shit got me feelin' all emotional.
But anyway, after Drake told the world he's been in love with Rihanna since he was 22, he leaned in to give her a kiss.
Many people on Twitter think Rihanna rejected the smooch and turned it into a hug instead. Watch closely.
But I have some behind-the-scenes footage to prove Rihanna and Drake were making out all night.
Yup, one of the crowd members caught Drizzy and RiRi lockin' lips and holding hands on stage.
YOU DIDN'T SEE THIS KISS ON TV, DID YOU?!
This a moment they didn't show on TV lmao. But let the curve jokes fly. They funny. pic.twitter.com/2fuV0bZUUM — Big Homie EZ (@ChiTown_Eazy) August 29, 2016
There you have it. Rihanna and Drake are in love and getting married and having 39,493 adorable, talented babies together. It's just a fact at this point.
They even took this cute pic with Rihanna's grandpa (that's Rihanna's grandpa, uh, right? LOL!!)
Oh, and here's one more exclusive video for ya. Watch Drake escort Rihanna out and giggle. Watch Rihanna HOLD HER MAN'S ARM.
They're perfect. I love you, Drake. I love you, RiRi. And together, you are everything.