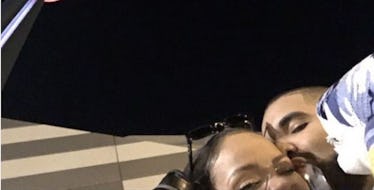 Drake Posted The Sweetest Message For Rihanna On Instagram After The VMAs
Instagram
Drake and Rihanna dating is the best thing that's ever happened to me.
Sunday night at the MTV VMAs, the rapper and singer made their first big appearance as a couple together and I absolutely lost it.
Let me explain.
RiRi was the recipient of the Video Vanguard Award, so eyes were on her all night. Drizzy decided to show up FASHIONABLY late (WTF, Drake?) so he missed 3/4 of the show.
Way to be there for your girl, dumbo.
According to the host, Drake was stuck in traffic. Aight, we'll let it slide. I know those NYC streets get crazy this time of year.
ANYWAY, toward the end of the night, Drake finally showed up and presented Rihanna with her award. He continued to deliver the most romantic speech of all time and confessed his undying love for the singer.
Oh, they also kissed and held hands a lot, so yeah, it was a night to remember.
The PDA didn't stop there though, folks.
After the VMAs, Drake wrote the sweetest message ever about Rihanna on Instagram. He also added this adorable pic of him kissing her cheek.
AWWWWW, STOP IT.
In the message, Drake said the VMAs was "a night for us" (AKA him and Rihanna, not me and him...) and explained how Rihanna affected his life.
I'M NOT CRYING ALONE IN THE SHOWER. YOU'RE CRYING ALONE IN THE SHOWER.
Cool, well, BRB! Downloading Tinder ASAP. I need a man to confess his undying love for me pronto.
Boys, come at me. Uhh, seriously. Someone step up.