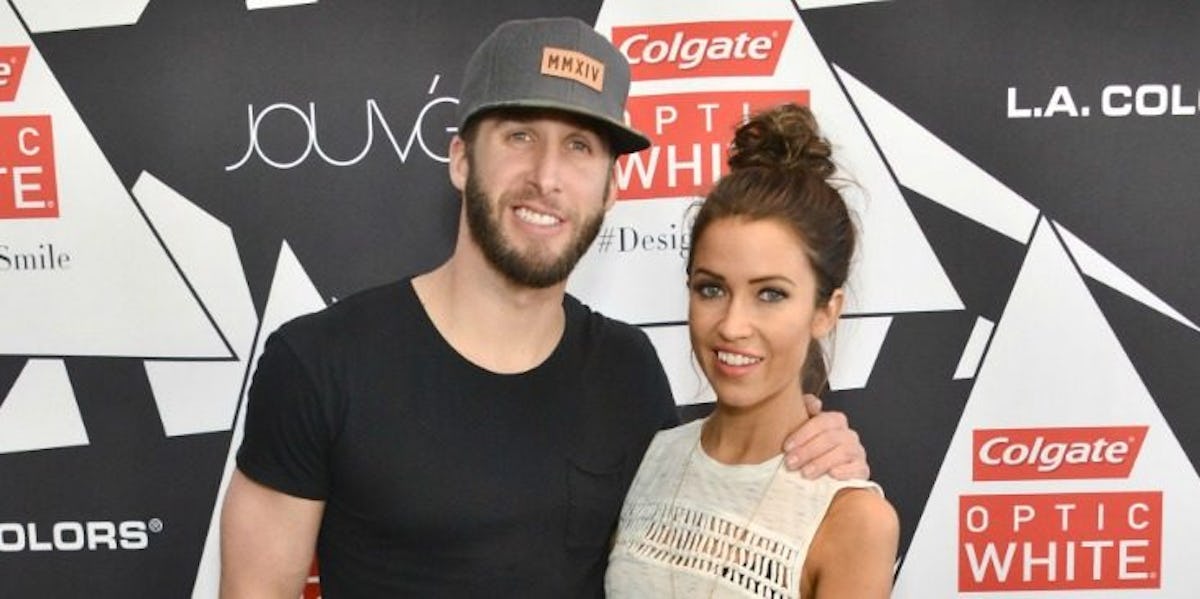 Shawn Booth On What Really Happens During 'The Bachelorette' Finale – EXCLUSIVE
Araya Diaz/Getty Images
After tears, laughs, and lots of making out, we have finally made it to the The Bachelorette finale. Rachel Lindsay has been put through ex-girlfriend drama, a date with Jack Stone, and Peter's commitment issues in order to get the big proposal. We won't know who Rachel gives the final rose to until after the finale on August 7. Until then, I can fill you in on surprising details shared by Bachelorette alum, Shawn Booth.
Booth won Kaitlyn Bristowe's heart during Season 11 of The Bachelorette. The pair celebrated two years of engagement in May, and are content enjoying life together. Kaitlyn holds a special place in my heart as the most IDGAF Bachelorette of all time, and I've been loving the "longest engagement ever." Her words, not mine. Turns out, Booth is also enjoying the ride and life after the final rose.
During an interview with the personal trainer, I asked how life changed after The Bachelorette. Booth says,
It was a pretty smooth transition for us, which was great. We always talked about how we understand all the breakups in the Bachelor world because it is a very difficult thing and it is very different when you're dating outside of that show ... I mean, we were definitely both very scared about that sort of thing and you know, it kind of hit us once [we were] engaged. Then, you finally get some alone time and we had a house to ourselves for a few days, with another producer, to make sure we weren't running around town or anything crazy. Once we got picked up and had to go out separate ways, once we got dropped off at the airport, you're like 'Holy crap, what just happened?'
Hold. The. Phone. I needed Booth to elaborate on the alone time that involved living with a producer after the show. He continues,
They have to make sure you don't do anything crazy. So they had a producer who was living in the house with us. Yeah, they had to make sure you don't go out in the front yard... so nobody can see you.
That blew my mind. TBH, I'm low-key touched by the extenuating circumstances Bachelor producers take to keep me surprised. With this nugget of information revealed, I was curious about more. Like, what was it like to be off-camera with Kaitlyn for the first time? Booth explains,
That was a very good feeling. We did have a little bit of off-camera time that we got in trouble for during the season [laughs]. When it was actually allowed, it's just a huge relief. It was literally instantly once they closed the door behind us we just took a big, deep breath. Wow, finally, we can talk to each other and say the things we want to say and really get to know one another, and that's what we did. We were up all night just talking and drinking and having a good time.
Booth really enjoyed the fantasy suite. He adds,
I just remember we didn't want that to end and it even got to the point when we weren't opening our hotel door the next morning because we didn't want to have to go back to all the craziness. They were just slamming on the the hotel room and were like, 'You guys have to let us in.' Eventually we did, but that was definitely a good night.
As for how much time each couple has in the fantasy suite, the answer is probably less than you think.
Not that long because of the date. The date doesn't get over until midnight or 1 a.m. Then, you do some interviews. So, by the time you're together it's like 1:30 a.m. They come knocking on your door around 8 or 9 in the morning... There's not much sleep that goes on in The Bachelor world.
I'm assuming "not much sleep" is a big understatement. When it comes down to the final rose, the details of the engagement are also surprising. I asked Booth how he felt the night before the proposal. His answer was boyfriend goals AF.
That's a very strange, surreal feeling. At that point, I had a little house out in the hills of California. It was just me and a producer. I was kind of stuck in this house for two weeks and I can't see anybody, can't talk to anybody. You're basically like ... 'Am I really proposing tomorrow?' I think you pretty much have every feeling there is ... Thinking back on it, one of the main feelings that I had was ... this crazy, crazy 'journey' is going to stop tomorrow night and I can finally be with Kaitlyn. So, yeah, I was just happy.
If you watched Kaitlyn Bristowe's season, it's almost unfair what a frontrunner Booth was. Like, literally the entire season was no contest — in my opinion. I wondered if Booth felt that way, too. Turns out he did.
Toward the end, they try to make it look like she might pick somebody else, but no. I was definitely feeling the whole time that it was going to be me, I never had any doubt. From the moment I walked out of the limo, we had such a strong connection and then I got the first impression rose ... Even if you ask the guys, they knew it too, which was funny. I felt very strong about it the whole time, I never had any doubts about it.
Really, no doubts? Not one time?
I think probably the only time I had a little doubt about it was the day of the proposal. We got engaged at The Bachelor mansion and I pulled up in a limo ready just to get it over with and do the engagement. For some reason, they had me wait outside the mansion for like an hour and a half. I think just to build tension ... I was playing games with my head. Yes, to my parents and a lot of people I was the frontrunner. I was happy with that. They definitely put you through the ringer... that's a fact.
As far as Booth and Bristowe's wedding, there's no date set.
However, they don't care about the pressure and are enjoying time together.
I think we're both similar in the way that we don't allow pressure to get to us. There was a lot of pressure in the beginning stages ... It was just kind of crazy to me how everyone was surprised that we weren't getting married. They were surprised that we didn't set a date right away. I was like, 'You guys do realize we just met on The Bachelorette, right?' I think once a lot of people started seeing our personalities and seeing who we were ... they started laying off a little bit.
No date, no worries. AMIRIGHT?
I had the chance to catch up with Booth after he completed the IRONMAN Triathlon in Lake Placid, New York. The challenge consists of a 2.4 mile swim, 112 mile bike ride, and a 26.2 mile run (that's a full marathon).
That sounds tough and all, but have you ever marathoned six seasons of Sex And The City? Talk about stamina.
Even though I kept saying I didn't care, Booth gave me tons of great tidbits for overall health and fitness. JK, I was begging for help. As far as training for the IRONMAN, Booth dove in head first, registered for the challenge, and began his eight months of training. If you're also crazy passionate about competing, Booth said the best way to start is to connect with someone in the IRONMAN world.
For the rest of us trying not to die, Booth explained that it's great to change up your regular workouts.
I don't like sticking with anything too long. When I train my clients, I'm constantly changing workouts, throwing in new exercises ... I'm always changing it up. I like to keep my clients and myself on the toes, and I don't want their bodies to adapt to anything.
As for his must-have fitness tools, Booth keeps it simple.
I always have a fitness watch on my wrist. I love the TomTom Spark 3. It's something I use every day to make sure I'm reaching my goals and getting the amount of steps. It also tracks my sleep which is awesome. You can use it as a stopwatch, to track miles, and all that good stuff. I always suggest getting one of those. I love TRX bands. You can bring those anywhere with you and there's a whole bunch of different exercises with those ... Also, a foam roller. I get pretty sore and travel all the time and don't go anywhere without my foam roller.
I usually don't go anywhere without my phone charger, so I get it. As far as his advice for staying motivated — Booth is a big believer in goal setting.
I feel like if you don't have something to look forward to, if you don't have a goal in your life, then you immediately lose track of what you're trying to do or get bored of it ... If someone can find a goal, whether it's trying to get to the gym three times a week, trying to lose five pounds in a couple of months, that really helps.
Honestly, I felt like a better version of myself just talking to Booth. Overall, life is good for Shawn Booth and Kaitlyn Bristowe. These two make such an awesome couple, and I can't wait to see what's next for them.