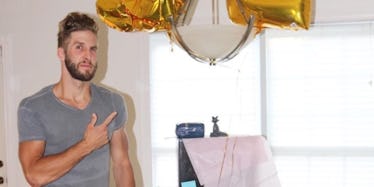 'Bachelorette' Kaitlyn Bristowe Forgot Her Fiancé's Age, So That's Awkward -- PHOTO
Instagram
What's a year or two between fiancés, right?
Kaitlyn Bristowe of Bachelorette fame hilariously confused how old her fiancé, Shawn Booth, is turning this year and posted her adorable blunder on Instagram.
In the photo, Booth is standing awkwardly under balloons shaped in the number "32," and their golden retriever Doodle looks just as confused.
Kaitlyn captioned it:
Doodle is just as confused as Shawn. Turns out he's 31. Fiancé fail. Happy Birthday Shawn B. #Whoops
Ah, who can blame her. In my mind, every year after 25 is just an anniversary of your 25th birthday anyway.
Bristowe and Booth got engaged on the season finale of The Bachelorette, and have since embarked on what Kaitlyn is openly calling the "longest engagement ever."
The couple recently celebrated their two-year anniversary, to which Kaitlyn once again took to Instagram.
She wrote,
Cheers to the longest engagement ever. I like that we don't feel pressure, I like that we have taken our time, I like that we still don't have a date set, and I kind of like you. Best 2 years ever. Happy Anniversary Shawn B. I love you! Swipe for a couple oldie pics that make me smile. We look like babies.
Shawn reflected her sentiments, posting one smoking hot photo of Kaitlyn and writing,
I am one lucky guy to have been able to spend the last two years of my life with this beautiful, intelligent, funny, strong, and bad ass woman! Thank you for the greatest 2 years, thank you for being you, and thank you for, well ya know, Riiiiickk ;)
Looks like one little birthday whoopsies isn't going to get in the way of this love. Now, we can only hope for the same happily-ever-after for new bachelorette, Rachel Lindsay.
Her season premieres this upcoming Monday on ABC and the cast looks like a doozy.
Citations: Kaitlyn Bristowe Doesn't Know How Old Shawn Booth Is — Check Out Her Hilarious 'Fiancé Fail' (People)