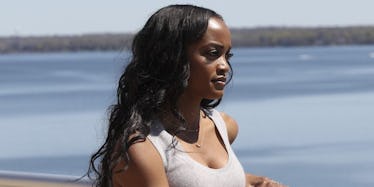 'The Bachelorette' Rachel Lindsay Says "Fantasy Suites Were A Game Changer"
ABC/George Burns
This season of The Bachelorette is coming to a close, but not before things heat up with Rachel Lindsay in the fantasy suites. Notoriously, fantasy suite dates are a really big deal. It gives each couple the chance to spend an extended period of time together, most of it with no cameras. Also, couples are encouraged to take their relationship to the next level... physically.
Rachel Lindsay has it narrowed down to her final three men: Bryan, Eric, and Peter.
Week 8 is going to be a biggie, and Lindsay opened up to Entertainment Tonight about what viewers can expect.
The million-dollar-Neil-Lane-question stands, so does she get intimate with anyone? She said,
Fantasy Suites were huge for me. I walked in with a list of questions I had. You can't cover everything with the limited amount of time you have. It's the first time you have extended time with this person, for me, it's like, if I'm taking the next step, I have a list of questions.
Lindsay admits she was able to ask her list of questions on and off camera.
I need to see if the person is the same off camera that they are on camera. [Eric, Peter, and Bryan] were all the same.
During her first ever photo shoot for The Bachelorette, Lindsay was asked if she saw herself getting intimate with all the finalists in the fantasy suite. At that moment she said,
Right as I stand here today, no. But when you get to that moment, you just don't know, so we'll have to wait, watch, and see. But no, I don't see that happening for me as I stand here today.
Lindsay recently assured everyone that she's "a woman of her word." Being the lawyer that she is, details are everything.
I just said, I didn't do it with everyone.
Hmmm... that Rachel Lindsay is tricky. So did she or didn't she? A Bachelorette apparently never kisses and tells.
Surprisingly, Peter, Bryan, and Eric all have a large fan base. Usually, there's someone in the final three that's generally hated by America, but not this season.
It's more of a fight of who should be the next Bachelor. In my opinion, there's no wrong choice at this point.
Former Bachelorette, Andi Dorfman, wrote about her fantasy suite experience during Season 10. More so, the double standard she felt after the fact. She explained in response to being called a "slut" after her fantasy suite episode aired,
What people likely don't realize is that the fantasy suites are stretched out over a two-week timespan. It does come in one quick episode, but this isn't back-to-back like viewers see.
Bottom line, it's two consenting adults in a relationship and they should do what feels right. As for the decision Rachel Lindsay makes on her dates, I'm excited to see what goes down. I have my predictions, but I think Lindsay could be engaged to any of them at this point.
You definitely won't want to miss any of what's to come. The Bachelorette airs Mondays at 8 p.m. ET on ABC.