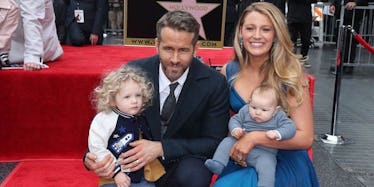 Ryan Reynolds Says Becoming A Father Has Made Him 'Desperate' And Anxiety-Ridden
REX/Shutterstock
Deadpool has finally met his match: toddlers.
Ryan Reynolds may laugh his way through battles with the forces of evil on the big screen, but when the cameras are off, he's trying to deal with all the pressures of being a new dad to his two young daughters.
Reynolds opened up to Entertainment Tonight about how crazy his life has gotten since having his second daughter a few months ago, admitting that his crazy schedule has made him desperate and anxious to get back home to his girls.
I think you're just more desperate in everything you do 'cause you're just like, 'I've got 10 minutes to do this, and then I gotta get home for a thing, and a thing, and a thing...' There's just no time anymore, so you're hardened by anxiety. I think, that's probably it.
It's no wonder Ryan is feeling so anxious — he's got a busy year ahead of him starring in and promoting a bunch of huge films, which obviously reduce his time with his 2-year-old daughter, James, and five-month-old Ines.
He's on the road right now promoting his sci-fi thriller "Life" with co-star Jake Gyllenhaal, and then his action comedy "The Hitman's Bodyguard" comes out this fall.
And of course, he's also got to film "Deadpool 2" sometime amidst all that!
And this isn't the first time Reynolds has been open about his anxiety. Earlier this year, he shared that his wife Blake Lively helped him through an anxious period before "Deadpool" premiered, as he worried about how the hit film would be received.
Obviously, it turned out he had nothing to worry about.
Ryan may not be home as often as he likes, but at least he can count on Blake to look after their two girls. The actress hasn't signed on to any new projects since last year's oceanic thriller "The Shallows," so she can embrace being a full-time mommy for a while now.
As much as I love Ryan Reynolds movies and want as many of them as possible, I kind of hope he gets to take a break after next year's "Deadpool 2" so he can spend as much time with his daughters as he likes.
Citations: EXCLUSIVE: Ryan Reynolds Says Fatherhood Has Made Him 'More Desperate': 'There's Just No Time Anymore' (Entertainment Tonight)