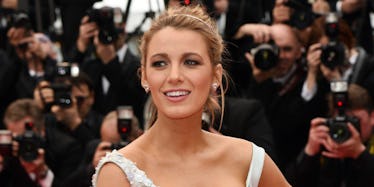 Blake Lively Gets Real About Filming In A Bikini After Giving Birth
REX/Shutterstock
It's officially time to give up because if Blake Lively can't feel confident in a bikini, I guess no one can.
In a recent interview with the Australian website, News.com.au, the 28-year-old actress revealed she was self-conscious about displaying her post-baby body in her film"The Shallows."
She said,
The struggle is that I am doing a movie in a bikini eight months after having a baby and there is a level of insecurity and vanity that comes with that. You don't want to be the person in the magazines that they are saying 'ugh, look at her' rather than 'wow, look at her.'
Blake had her first daughter with Ryan Reynolds in December 2014, and the couple is currently expecting their second child.
OK, Blake Lively. Like, I kind of get it, but also... you did see your movie, right?
I know you know we all know you looked perfectly gorgeous in it, as always.
Even when her body was covered in blood and bruises, it was still the perfect body according to societal beauty standards.
Blake did acknowledge there shouldn't be negative connotations associated with a post-baby bod.
She said,
That's a shame because there shouldn't be that negative 'ugh' after someone has a baby. Your body is so beautiful. You couldn't walk a Victoria's Secret runway but it's beautiful in a completely different and incredible way and I do wish I had the bravery to go out there and represent women as they actually look.
Well thanks for thinking of us uglies, even if you're not gonna follow through, Blake. We appreciate it!
Citations: Blake Lively Opens Up About Her 'Insecurity' Over Doing 'a Movie in a Bikini Eight Months After Having a Baby' (People)