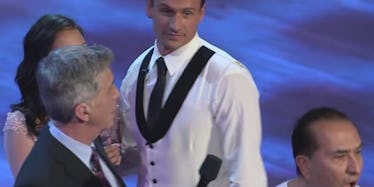 Ryan Lochte's 'DWTS' Protesters Have Finally Been Charged After Their Stunt
YouTube
It was nearly a month after Ryan Lochte's hectic time in Rio for the Olympics.
The 32-year-old swimmer had fabricated a story about a robbery at a gas station after a night out on the town with three other teammates.
After losing various endorsements, being banned from competing for 10 months and losing the respect of fans around the world, Lochte was looking for a fresh start on "Dancing With The Stars."
Only, his debut on ABC's hit dance show didn't go as planned.
Just after Ryan Lochte performed with his dance partner Cheryl Burke, two men sporting t-shirts with anti-Lochte symbols on them rushed the stage as a form of protest.
While the two men have every right to protest and lawfully express their concerns, they did break the law with the bold stunt they attempted during Ryan Lochte's 'DWTS' debut.
According to US Weekly, Sam Sotoodeh and Barzeen Soroudi, the two protesters, have been charged by prosecutors.
Both Sotoodeh and Soroudi were charged with two misdemeanors - entering a stage and interfering with a performance.
The incident that happened at the 'Dancing With The Stars' studio in Hollywood eventually led to the arrest of both men. They were eventually released on $1,000 bail.
So, why did Lochte protesters Sam Sotoodeh and Barzeen Soroudi even attempt a wild stunt like this in the first place? Apparently, they wanted to send a message to the troubled swimmer following his scandal in Rio.
In a statement obtained by ABC News, Sotoodeh said,
Our purpose is to get the message out that Lochte is a coward, a liar and under Brazilian law, a criminal.
Soroudi also chimed in, adding,
[Lochte] embarrassed Americans on the world's stage, and this was our form of protesting against that.
Despite the stunt, which traumatized Ryan Lochte and left him feeling like someone took his "heart out," the 32-year-old swimmer is being optimistic and will continue his run on "Dancing With The Stars."
Here's what went down.
Lochte released a statement following the incident, which read,
I have gotten so much love from everyone on the show, including my partner Cheryl, my fellow competitors, the producers, the security team and its fans. I appreciate the opportunity to be part of the show, and more than ever, I am dedicated to my new family and to working hard to do my best.
Read the full statement here.
Hey, these protesters are not wrong...
I just think it's obvious that there were plenty of better ways to go about getting their message across that didn't involve breaking the law.
Citations: Ryan Lochte 'Dancing With the Stars' Protesters Charged — Details (US Magazine)