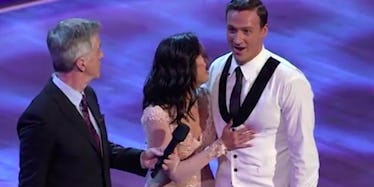 Ryan Lochte Pens Heartfelt Letter To Supporters After 'DWTS' Incident
YouTube
If you want to know what winning several gold medals at the Olympics is like, ask Ryan Lochte. If you want to know what having the rockiest moment of your career at the same time is like, also ask Ryan Lochte.
The 32-year-old swimmer is finally coming to terms with the fact that he royally screwed up during the Olympic games in Rio this year when he fabricated a story about a gas station robbery he experienced with three other teammates.
These days, Ryan Lochte is opening up about the traumatic experience.
First, he sat down for an interview with Ellen DeGeneres, in which he revealed,
I reached the lowest point of my entire life that I never thought I would go to. I was in a really dark place, and I didn't know if I should come out, [or] just hide my entire life.
Lochte attempted to pick up the pieces and start fresh after agreeing to join the folks over at ABC's "Dancing With The Stars."
The show is known for providing quality theatrical entertainment, as well as providing a hypothetical "fresh start" for people hoping for a second chance.
That's exactly what it was supposed to be, and still is, for Ryan Lochte.
Only, he didn't get a chance to perform his dance routine with his dance partner, Cheryl Burke, in complete peace.
Protesters rushed the stage sporting anti-Ryan Lochte t-shirts, which caused a whole lot of commotion behind the camera.
Viewers who were unable to see what was happening later found out that they were protesters.
Here's the video.
Lochte, who was shaken up after the incident and admitted that it felt like someone ripped his heart out and "stepped on it," is now thanking all of his fans, friends, family and "DWTS" teammates for their undying support following the stunt.
Ryan Lochte posted a note on Twitter, in which he wrote,
I want to thank my family, girlfriend, friends and fans for being so supportive of me after the incident on Dancing With the Stars Monday night. When I was asked to do the show, the one thing that I kept hearing was that it was like joining a big family.
If there's anything Lochte needs right now to get his swimming career back on track it's the support of one giant family.
Lochte continued,
After Monday's incident, I now know what that means. I have gotten so much love from everyone on the show, including my partner Cheryl, my fellow competitors, the producers, the security team and its fans. I appreciate the opportunity to be part of the show, and more than ever, I am dedicated to my new family and to working hard to do my best.
Here's the original tweet Ryan Lochte published two days after the "Dancing With The Stars" incident.
After fabricating stories in Rio, losing a number of major endorsements and being the center of attention for the wrong reasons, sure, Ryan's had a wild year thus far... But it looks like Ryan Lochte might just be OK after all.
Two words: support system.
Not to mention, Lochte has internalized some really good advice from Michael Phelps who has experienced his own share of drama over the course of his successful swimming career.
During Lochte's interview with Ellen, he revealed,
I reached out to him because I knew he hit a low point in his life and he bounced back from it and I knew his answer was gonna be really honest because of our relationship over the years. He said, 'It's not what you did; it's what you do now that will shape who you are.'
If Phelps can overcome adversity, so can you, Ryan... Now get back out on that dance floor, bro.
Citations: Ryan Lochte Thanks 'DWTS' Family After Protester Incident (US Magazine)