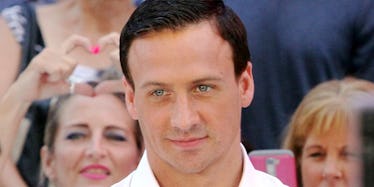 Ryan Lochte Says He's Reached His 'Lowest Point' After Swimming Suspension
REX/Shutterstock
It's official, people. Ryan Lochte will appear on "The Ellen DeGeneres Show" next week -- and he's finally opening up about the "lowest point" of his life.
The 32-year-old Olympic gold medalist was finally punished by the United States Olympic Committee and USA Swimming following the exaggeration of a robbery story he told while he was in Rio last month.
Ryan Lochte will be banned from competing for 10 months. The swimmer is also banned from competing at the 2017 world swimming championships.
If you know anything about Lochte and his love for the sport of swimming, you know he can't be taking this well.
While taping his segment for "Ellen," Ryan Lochte opened up about how he's dealing with life after the bizarre incidents that took place in Rio.
Lochte revealed,
I reached the lowest point of my entire life that I never thought I would go to. I was in a really dark place, and I didn't know if I should come out, [or] just hide my entire life.
Poor guy.
What started as a fabricated story about a gas station robbery he experienced with three other teammates soon turned into one of the rockiest moments in his career that he likely wishes to forget.
Law enforcement in Rio concluded that Ryan Lochte and company were not robbed at gunpoint and had reportedly vandalized a gas station instead.
Lochte's inability to tell the truth has caused him to lose major sponsorships as well as the opportunity to compete in domestic and international swimming competitions.
Life can't feel too good after losing major sponsors like Speedo, Ralph Lauren, Gentle Hair Removal and Airweave.
Ryan Lochte opened up to Ellen DeGeneres, saying,
You know, I've been swimming my entire life and I've never taken a break, and for someone telling me that I can't do something I've been doing my entire life… it's heartbreaking and it stinks.
It doesn't just "stink" -- that's for sure.
I mean, the guy is coming off of a few huge Olympic wins in his career. He also managed to lock down major endorsement deals with some of the biggest brands in the world...
But he messed up and now he must pay the price. Lochte added,
...There is so much more I want to accomplish in the sport of swimming, so I do know that I'm still going to be training, and when I do come back, I'm going to definitely be a better swimmer and a better person.
At least the 12-time medalist is finding a way to stay sane and optimistic while this all plays out.
With the support of his friends, family and fans, he'll be just fine.
As a matter of fact, Lochte reached out to Michael Phelps for his support. Ryan said,
I reached out to him because I knew he hit a low point in his life and he bounced back from it and I knew his answer was gonna be really honest because of our relationship over the years. He said, 'It's not what you did; it's what you do now that will shape who you are.'
With such strong, powerful advice from Phelps, I don't think we should worry about Lochte too much.
And besides, while he's not swimming, he'll be tearing up the dance floor on "Dancing With The Stars" alongside Cheryl Burke this month.
That's not a bad gig!
Lochte's appearance on "The Ellen DeGeneres Show" is set to air on Monday, September 12.
Citations: Ryan Lochte Addresses Suspension Over Rio Robbery Scandal: 'It's Heartbreaking and It Stinks' (US Magazine)