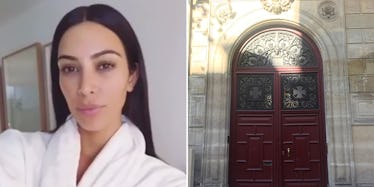 The One Part Of Kim K's Robbery No One Can Figure Out Is Who Opened Her Door
Snapchat/REX/Shutterstock
The investigation continues to determine what really happened the night Kim Kardashian was robbed in her Paris hotel room.
As detectives compile their clues, there's one detail missing from the case and leaving everyone stumped.
According to the Mail Online, investigators are having trouble figuring out who opened the door to Kim Kardashian's apartment before she was held up at gunpoint.
It's unclear how the robbers were able to get into her flat, despite the door being completely locked.
A source close to the investigation explained,
This is the baffling part of the enquiry. The door is armoured and easily locked from the inside. We are dealing with a young woman who was sleeping alone with a hugely valuable amount of jewelry. She would never open the door in the middle of the night in these circumstances, so who did?
The door reportedly also had no sign of forced entry or damage.
The story so far claims Kim Kardashian was asleep in bed when she woke up to the noise of men coming up the stairs. She tried to call her bodyguard before the phone was snatched out of her hands.
The gang entered her bedroom and held a gun up against her head. The 35-year-old reality star was gagged and bound her by the hands and ankles and had to plead for her life.
A source told E! News,
She begged for them to let her live and [said] she has babies at home. Then they wrapped her mouth in tape and put her in the bathtub. She thought they were for sure going to kill her.
As previously reported by Elite Daily, it was Kim Kardashian's good friend Simone Harouche who eventually called Kim's bodyguard to get help.
Simone locked herself in her bathroom downstairs and contacted Pascal Duvier, but apparently she didn't know of the attack until afterward.
Kim's security guard spent the night protecting Kendall Jenner and Kourtney Kardashian, so he was not with her when the robbery occurred.
Detectives are confused as to why the mother of two didn't have higher security in place when she was alone with multi-million dollars worth of jewels.
In the end, what truly matters is Kim Kardashian was able to escape the dangerous situation unharmed.
As of now, her family has not yet commented on social media, but Kanye West has put his tour on hold to be there for his wife.
Hopefully more questions are answered in the upcoming days.
Citations: Kim Kardashian Door Robbery (Daily Mail)