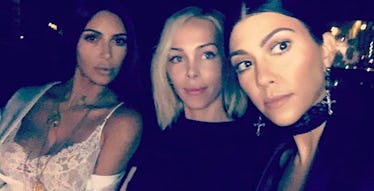 Kim K's Friend May Have Saved Her Life When Robbers Broke Into Paris Hotel
Snapchat
Kim Kardashian wasn't sure she'd make it out alive the night men disguised as police officers broke into her Paris hotel room.
The 35-year-old reality star was gagged and bound in a bathtub alone while armed robbers stole millions worth of jewels.
New details about the case have emerged overnight, and it looks like Kim Kardashian's friend may have been the one who saved her life.
According to TMZ, Kim was asleep when the men first entered the apartment. When she heard them headed upstairs, she tried to call her bodyguard before the phone was snatched out of her hands.
A source explained Kim K's friend Simone Harouche locked herself in a bathroom downstairs and called Kim's personal bodyguard, Pascal Duvier, while this was happening.
Duvier was with Kim's sisters Kendall Jenner and Kourtney Kardashian, who were partying at Arc nightclub nearby.
If it wasn't for the Kardashian's good friend Simone, Kim wouldn't have been able to get the protection she needed.
Monday afternoon, Kim made it safely back to New York and reunited with friends and family after the terrifying incident.
Kanye West was headlining the Meadows Music & Arts Festival in New York the night of the robbery, but the rapper met his wife immediately when she came back to the States.
When Kim first called her husband, she was reportedly "hysterical" talking about the attack. A source close to Kanye explained,
He said she was really upset and it took him a few seconds to understand what she was saying to him. He wanted to get to her as soon as he could. He told her that he couldn't care less about the jewelry; he's just thankful that she's OK.
Kim has not yet posted on social media about the robbery, but her rep says she is "badly shaken."
As of now, it sounds like the company of friends and family is really what the star needs.
Citations: Kim Kardashian Held Up At Gunpoint (Daily Mail)