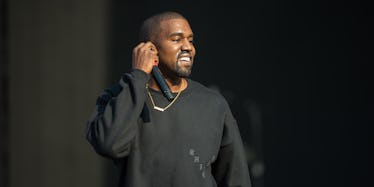 Kanye Puts Tour On Hold To Spend Time With Kim Kardashian After Armed Robbery
REX/Shutterstock
During his show at the Meadows Music & Arts Festival in New York on Sunday night, Kanye West announced he had to leave to handle a family emergency.
That emergency was his wife, Kim Kardashian, who had been tied up, gagged and held at gunpoint at the hotel she was staying at in Paris, France. She wasn't harmed but was robbed of around $10 million worth of jewelry.
The couple reunited in New York City on Monday at their apartment.
Like any good, dedicated husband would, Kanye's first priority is to comfort his wife and be with his family.
This incident left Kim "badly shaken," which is understandable. She thought she was going to be raped and murdered in this terrifying situation.
Unfortunately, that means some of the dates on the "Fade" rapper's Saint Pablo Tour have to be canceled and rescheduled.
He's moving his show at Philadelphia's Wells Fargo Center, which was originally set for October 4, to December 13.
The other is a show in Detroit at The Palace of Auburn Hills, originally set for October 6, which is now rescheduled for December 22.
Fortunately, tickets for the original dates are still valid.
After he heard the news during his New York show, he stopped abruptly in the middle of "Heartless" to tell fans he had to leave.
He reportedly felt "helpless" after he found out Kim's life had been in danger.
In this video, you can hear the worry and urgency in his voice.
When Kanye West starts Heartless and then stops the show because of a family emergency pic.twitter.com/0xiPDycb4g — Chloe (@itschloet) October 3, 2016
Kanye is set to be back on tour on October 7 in Chicago.
Hopefully, by then his family will feel calmer. I'm sure they appreciate his flexibility in this incredibly tough time.
Citations: Kanye West Reschedules Tour Dates After Kim Kardashian Is Robbed at Gunpoint (Us Weekly)