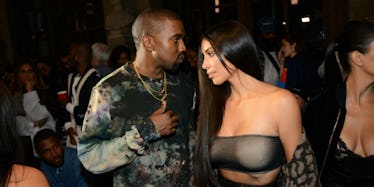 Kanye West Felt 'Helpless' After Kim Kardashian Was Robbed At Gunpoint
REX/Shutterstock
Thankfully, Kim Kardashian was not harmed while she was being robbed at gunpoint in Paris. Still, it was an incredibly jarring experience where she feared for her personal wellbeing.
Her husband, Kanye West, is also dealing with a lot of emotions after he learned that his wife was in such a scary and dangerous situation. He left his New York concert in the middle of his set to be there for Kim.
Recently, a source revealed to People that the rapper is terrified after thinking of the worst case scenarios that could have happened. They said,
Kanye says that it has been one of the hardest days of his life, that he feels helpless. This is a guy who isn't used to feeling helpless at all. He's usually in control. And now he realizes that he could have lost her, and there wasn't a thing he could do about it.
This is a totally normal reaction to such incredibly upsetting news. On top of feeling helpless, Kanye is angry at the situation.
He feels like she was terrorized. It's not just that she was robbed; it's that she was put into a position where she begged for her life, thought she was going to be raped. She was brutalized and manhandled.
Naturally, Kanye is thinking about adding more security to protect his family, especially considering the couple have two young children, North and Saint. The source added,
He's already talking about getting more security, not only for Kim but for the kids. He's really spooked by the whole thing, because he knows that they are targets now.
While Kanye is angry and wants to handle the situation himself, he knows that he needs to be by Kim's side. The source revealed,
He wants to find the men who did this to his wife. But he knows that the best place for him to be right now is with Kim. She needs him now. He won't leave her. She just bursts into tears every few minutes. She needs to be with someone all the time; she doesn't want to be alone.
We're all deeply sorry that Kim Kardashian and her family had to go through such an ordeal, and we're very happy that she is safe.
Citations: Kanye West Left Feeling Helpless After Kim Kardashian Was 'Brutalized & Manhandled' In Scary Robbery! (Perez Hilton)